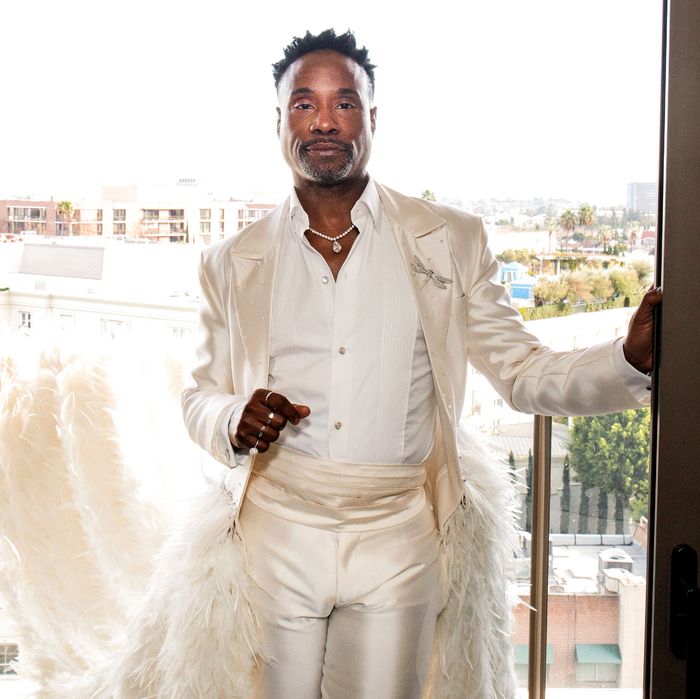 Photo: Santiago Felipe/Getty Images
By now, we are well aware that Billy Porter isn't afraid to swan about a red carpet. At the Camp-themed Met Gala, the Pose star donned golden wings but didn't need to use them: He was carried onto the carpet by no fewer than six buff, shirtless men. At the Tonys he dragged pink tulle across the carpet until it begged for mercy. And at the Oscars he wore a Christian Siriano tuxedo gown that dominated the awards-show fashion discourse.
At the 2020 Golden Globes he opted for no less of a look: a custom Alex Vinash suit that took three months to make (surely that includes coffee breaks?). A starched shirt and elegant white suit leads to a cascading trail of matching plumage. The outfit is topped off with Jimmy Choo shoes and a Tiffany & Co. necklace. Also, pants.
Porter told E!'s Ryan Seacrest on the red carpet that he started working on his look before he was even nominated for his performance in Pose. "It's really odd to have to work on clothes before you're even nominated," Porter said, explaining that hope lighted the way to this miraculous fashion moment.
Porter also quipped "This isn't a sitting outfit, this is a standing outfit." I'd argue it's also a nesting outfit, but luckily Porter won't need to test out that theory. "Feathers are fragile; the skirt zips off," he said. Who knew an evening-to-night feathered tuxedo train could be so practical?