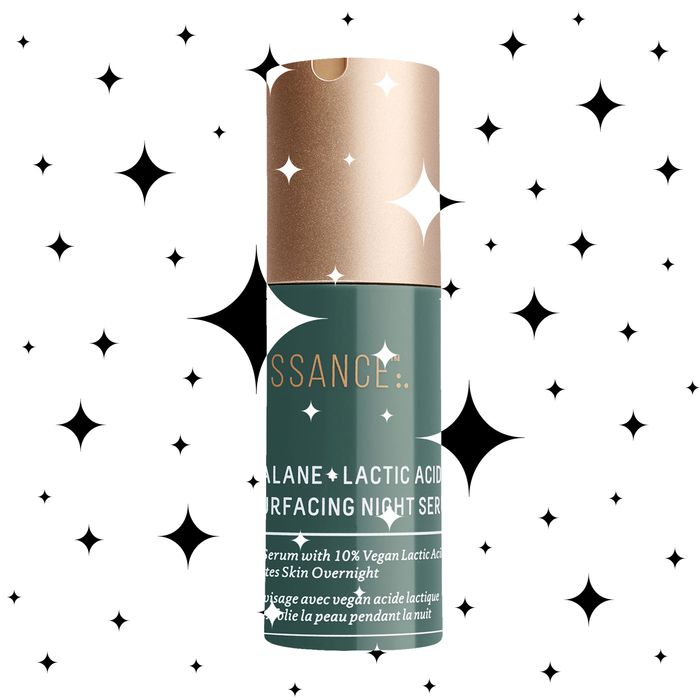 Photo: Courtesy of Biossance
For the past few months, I've been studying the uneven texture of my skin and wondering if now might finally be the time to try Fraxel or a chemical peel. The problem is that both of those procedures are serious treatments that assault your skin, so you need nearly a week of downtime before your new, smoother, and significantly less wrinkled face emerges. I don't have the luxury of going into hiding for a week, so, for the unforeseeable future, if I'm going to resurface, it needs to happen in a gentler way.
Biossance must have heard my self-pitying wails because they've just launched a serum that resurfaces gently. The formula pairs the brand's signature ingredient, squalane, with 10 percent lactic acid (which means people will inevitably compare it to Sunday Riley's Good Genes, although this contains double the amount of lactic acid and costs $25 less). The brand landed on 10 percent after finding that it adequately buffed away fine lines but was gentle enough to be used every night. I like the consistency of every night.
Squalane is getting a lot of buzz lately. It's a moisturizing ingredient that mimics our skin's own squalene, a natural lipid that our sebaceous glands secrete to moisturize and protect skin. But, the older we get, the less squalene we produce, which is why squalane, the hydrogenated (and more stabilized) version of squalene, is so popular. Follow?
Sadly, one of the largest natural sources of squalene is sharks, whose livers are rich in the stuff. But it's also found in olives, ricebran, and sugar cane, the latter of which Biossance chose for their formulas. They love it so much that it's in every one of their 18 products. Mixing it with lactic acid (also sugar-derived) has a kind of good cop/bad cop duality.
Being only three years old, Biossance grew up knowing nothing else but clean. The brand says it's currently the only EWG-certified (Environmental Working Group) one sold at Sephora, they aim to make zero waste by 2025, and they've created a Clean Academy on their website to answer, address, and explain the often confusing world of clean beauty. And remember those sharks? Biossance's parent company, Amyris, sells sugar cane-derived squalane to other beauty companies in the hopes of eventually eliminating the need to harvest from shark livers. Amyris says that this has saved 2 million sharks every year for the past five years.
To claim that this serum has saved my skin as well as some sharks might be a tad hyperbolic, not to mention premature. I've only been using it for a week, testing it on one side of my face (I often divide my face in the name of skin-care research). But I can report that it does feel a little smoother, and the pores look less, well, porous. I'm going to continue using it, and might even start extending to my face's B-side, because its light, velvety consistency and lavender scent have become a rather pleasant lullaby to end each day with.
If you buy something through our links, New York may earn an affiliate commission.