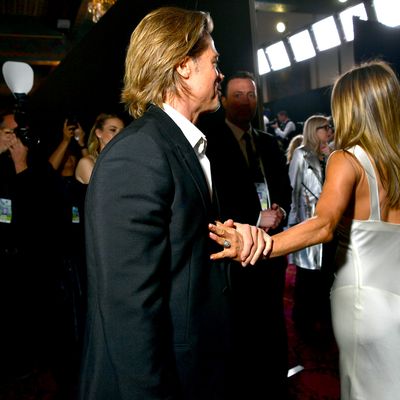 Emotional chaos ensues.
Photo: Emma McIntyre/Getty Images for Turner
Hello and good morning to everyone, especially Brad Pitt and Jennifer Aniston, who reunited at the SAG Awards last night with — as far as I can tell — the explicit intention of absolutely wrecking us via physical contact. The two exes, who were married from 2000 to 2005 after dating for two years, ran into each other at the ceremony. Jen greeted Brad backstage, and Brad, who torpedoed their whole America's Sweetheart idyll when he bailed for Angelina Jolie ~15 years ago, grabbed her wrist as she walked away. Emotional chaos ensued.
Each of them took home a statuette last night — Brad, for his supporting role in Once Upon a Time in Hollywood, maybe you saw the speech; Jen, for her turn as a news anchor on The Morning Show — but the rest of us got something arguably more memorable: photo evidence of the encounter.
Seen here, the approach:
Let's check the B cam, really get at this thing from all angles:
Yep, yep:
Bring it in:
Aagjknjgsjaskf!!!
Now watch the wrist:
WATCH IT:
Here's you:
And here's Brad, watching Jen's acceptance speech with the unblinking focus of a golden retriever watching televised tennis:
Now you must leave us to die in peace.