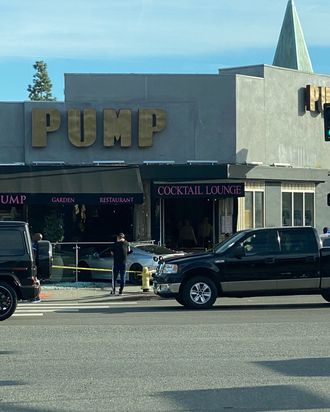 Vanderpump Rules returns to Bravo for its eighth season on Tuesday night (unfortunately, some might say). This weekend, a car crashed into one of its signature filming locations. Oh no!
Yes, on Sunday afternoon, Lisa Vanderpump's Pump — the West Hollywood restaurant famous for its "pump-tinis" and for being the location at which Vanderpump Rules idler Tom Schwartz worked a single half-day before getting overwhelmed and quitting — got a surprise and unfortunate visit from a Ferrari. The sports car crashed into the side of the building reportedly just after 2 p.m. The restaurant was open for brunch at the time; luckily, E! reports, via a police spokesperson, only one person sustained minor injures.
According to TMZ, the driver of the Ferrari was cut off in traffic, "which caused him to lose control and slam into the restaurant." Drugs, alcohol, and pasta are not suspected at this point to have played a role in the crash.
Lisa Vanderpump's husband, Ken Todd, spoke to E! about the accident. "A Porsche Turbo slammed through Pump at the intersection of Santa Monica Boulevard and Robertson in West Hollywood just after 2 p.m. Sunday," he said, incorrectly identifying the vehicle. "One girl [was] slightly injured and taken to the hospital with cuts. And we are very lucky that everyone else was uninjured and safe while dining during Sunday brunch."
Indeed.
Vanderpump Rules season eight premieres tomorrow, January 7, at 9 p.m. ET on Bravo.