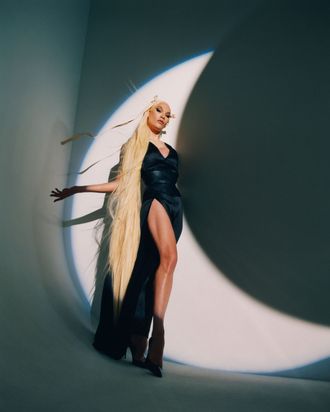 Miss Fame, a Cancer.
Photo: Brianna Capozzi
Introducing, a calendar that bears little resemblance to the paper, puppy-adorned ones of your childhood: a zodiac-themed "wearable" calendar, that's actually a collection of T-shirts designed for each star sign, all of which have accompanying videos of astrologer Susan Miller reading horoscopes over ambient music. The concept is wildly elaborate. It's pleasingly bizarre. And it is, naturally, the creation of influential French fashion figure Carine Roitfeld.
Earlier this month, Roitfeld — who has a proclivity for over-the-top fashion shoots — unveiled her annual CR calendar, which is all about the stars (astrological and celebrity). As mentioned above, the calendar isn't something you'd hang on your wall: Instead, it's a collection of 12 shirts, each of which feature a photograph of a model Capricorn, or Gemini, or what have you.
Picture Cindy Crawford, a Pisces, submerged underwater, wearing a sheer white wrap; Doutzen Kroes, an Aquarius (happy season!), participating in what looks like a high-fashion wet-T-shirt contest; and Stella Maxwell, a Taurus, straddling the ground, and holding her hand to her head in the shape of bull horns.
The concept wasn't the sole creation of Roitfeld. Per a press release, CR Fashion Book's creative agency, CR Studio, produced the calendar in partnership with Redemption T-shirts; additionally, the photographs were shot by Brianna Capozzi. (One-hundred percent of the proceeds for each shirt will go toward a charity of the featured model's selection.)
And now, let us draw special attention to perhaps the calendar's most notable collaborator: the iconic Susan Miller. While the world-famous astrologer didn't have much to do with the shirt, her voice is featured in the collection's accompanying videos, in which she shares astrological wisdom over music that sounds like it came straight from outer space.
So, if you don't want to spend approximately $100 on a shirt — that's currently on preorder and will ship next month — at the very least, you now have some new zodiac-themed ASMR.