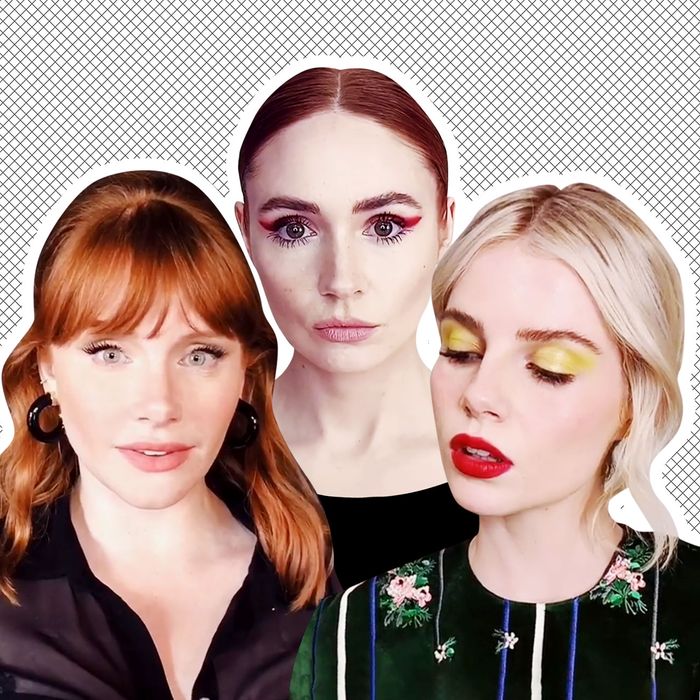 Send help!
Photo: @missjobaker/Instagram
We often look to celebrities to guide our beauty-related choices: what makeup to wear, what kinds of water to drink. If you take a casual scroll through Instagram right now, you'll probably find a new type of guidance you never knew you needed: celebrity inspiration on how to move your freshly made-up face once it's done being decorated.
It's a very particular kind of post you'll find on the feeds of top makeup artists: a video clip of a famous person moving their head to and fro, showing you the various angles of their angular face, wiggling their eyebrows and lips like they're warming them up for a workout. The clips are usually set to a soundtrack and almost always feel like they last just a smidge too long. Let's allow Rose Byrne to show us how it's done:
Watching an uninterrupted stream of face-posing on screen is like watching someone fill their camera roll with selfies in real life: unbearably uncomfortable, but impossible to look away from! Still, the excellent makeup looks being showcased in detail often overshadow the mystifying face choreography. In these videos, you can see a smoky eye from the side, a contoured jawline from kind of underneath. You can see just how blinding a highlighter really is, or how a matte lipstick reacts when you sigh through a partially ajar mouth.
If you want to be on top of the latest celebrity beauty trend, this is the one to try. It's basically free! All you have to do is your makeup and convince someone to tape you while you seduce the camera lens. Once that's sorted, try one of these celebrity-approved tricks to nail the celebrity face dance at home.
1. Do a Quick Pimple Check
Here's Jodie Comer, approaching the phone's camera lens as one might a well-lit mirror the morning after accidentally falling asleep in makeup again.
2. Show Off the Most Reflective Planes of Your Face
Put the shiniest parts of your face front and center in rapid succession, like Joan Smalls.
3. Act Like You're Hearing Arguments From Both the Devil and the Angel on Your Shoulders
Lucy Boynton wondered: "To Seamless or not to Seamless, that is the question."
4. Open Your Mouth a Lot
Like Emily Ratajkowski, you'll want to open your mouth enough to mouth-breathe, but not wide enough to catch something like a cheese puff in it.
5. Blink Your Eyes a Lot
Quite possibly the only time you'd ever bat your eyes in real life. Karen Gillan is clearly relishing it.
6. Get Your Hair Involved
If you're starting to feel self-conscious, repeatedly shake your hair like Karlie Kloss. Breathe. Don't you feel better?
7. Get Your Hands Involved
If you forgot your hair was slicked back, channel Lady Gaga on last year's red carpets and just start hand modeling instead like Adriana Lima.
8. Act Like You Just Got Some Hot Goss
Olivia Wilde will never tell!
9. If All Else Fails: Lip-Sync to a Seductive Song Without Mouthing Any of the Lyrics
Lily Aldridge knows: Simply doing this will cover many, if not all, of the aforementioned tips. Ask Alexa to play "Good for You" by Selena Gomez featuring A$AP Rocky.