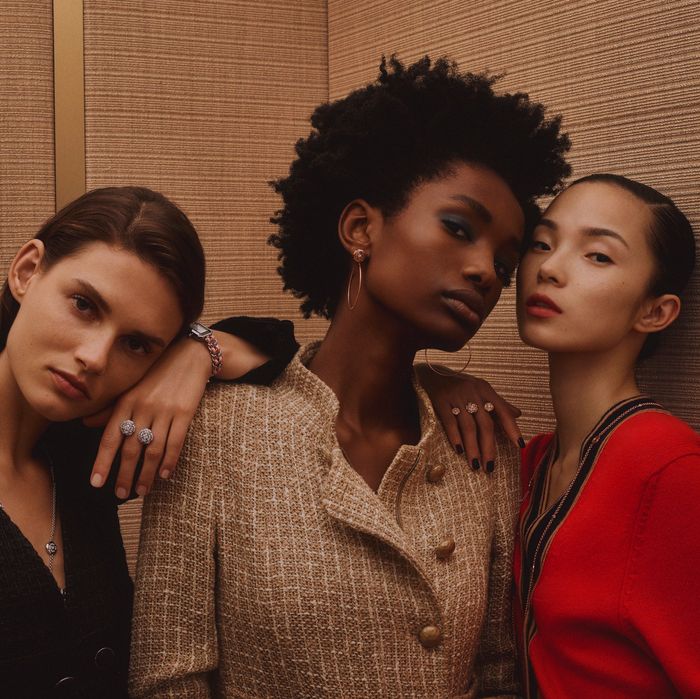 Photo: Courtesy of Chanel
The brand that once launched a rocket ship at a runway show is bringing us to outer space once again in a new short film for Chanel Fine Jewelry. This time, though, our ride is an elevator.
In Over the Moon, a woman walks into an elevator and presses a mysterious button labeled "moon." As the ride ascends, three more people enter. Naturally, they're all taking a luxury journey straight to that big white floating space rock while wearing the latest Chanel jewelry. There's a steel chain watch interlaced with pastel-pink leather, plus various floral necklaces, rings, and earrings in silver and rose gold set with diamonds. It's all from the brand's newest crop of watches and fine jewelry from the Camélia collection.
If our crew dies from lack of oxygen, at least they're wearing Chanel. But what's more unrealistic: an elevator that takes you to space, or actually talking to people in the elevator with you? Still, this video is very relatable. If you saw a button in an elevator that claimed to go to the moon, wouldn't you press it? (Unless you're British, in which case you might find it boring.)
Click below to watch the short film, and keep scrolling for all the jewels.
Shop the Story