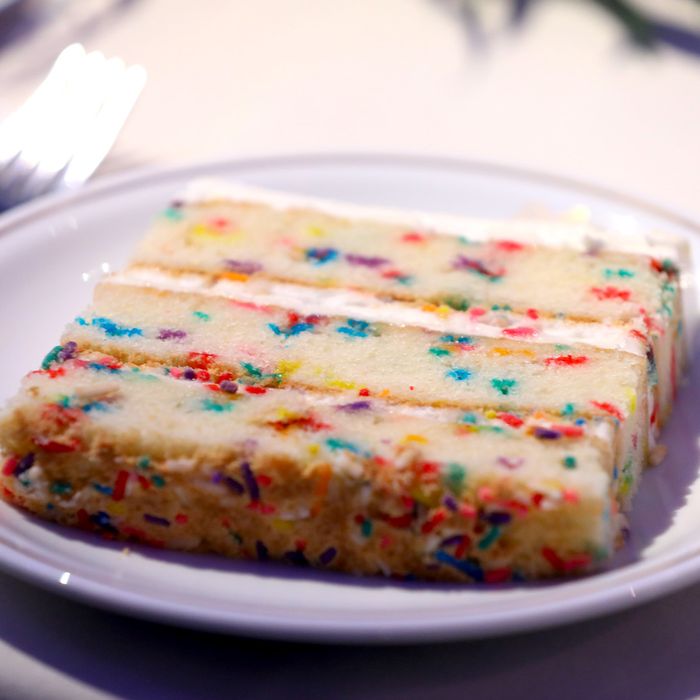 Kentucky's Whitefield Academy allegedly expelled a 15-year-old over the rainbow birthday cake (not the cake pictured) her mother picked out.
Photo: Cindy Ord/Getty Images for Autism Speaks
A Christian private school in Kentucky reportedly expelled a freshman student after administrators stumbled upon photos of her enjoying — please brace yourself — a rainbow birthday cake. Whitefield Academy appears to have read the dessert aesthetic as a statement of gay pride, and promptly informed 15-year-old Kayla Kenney that she had been "dismissed" for violating school code.
This reaction, some might go so far as to say overreaction, surprised Kenney's mother. "I ordered the cake, she didn't," Alford told the Washington Post. Alford explained that she had simply asked for a cake with colors that "pop" for the birthday party she threw her daughter on Dec. 30. Kenney also happened to wear a sweater with a matching design; Alford took a picture, and posted it to Facebook. "She was happy," Alford told Louisville NBC affiliate WAVE-3. "She looked beautiful."
But just a few days later, Alford received an email from the Baptist-affiliated academy's head of school, Bruce Jacobson, informing them that Kenney would not be allowed back.
"The WA Administration has been made aware of a recent picture, posted on social media, which demonstrates a posture of morality and cultural acceptance contrary to that of Whitefield Academy's beliefs," the Jan. 6 message read, according to NBC. "We made it clear that any further promotion, celebration, or any other actions and attitudes that are counter to Whitefield's philosophy would not be tolerated. As a result, we regret to inform you that Kayla is being dismissed from the school immediately."
In a follow-up statement to NBC, Whitefield administrators argued that the cake was just the latest in a string of student code violations. Alford clarified that her daughter had been on probation since October, after being caught with an e-cigarette and skipping some classes. The teen had also been made to meet with a school counselor, to discuss some specially assigned reading: a book called Gay Girl, Good God, the story of a woman who says she "used to be a lesbian," until God converted her.
Whitefield's student handbook lists "homosexual orientation" among the "lifestyle" violations that justifies a pupil's "discontinue[d] enrollment." In a statement to the Post, school officials noted that "all parents who enroll their children in our private school know upfront that we ask the students to adhere to a lifestyle informed by our Christian beliefs."
Kenney, meanwhile, is "adapting" to her new public high school. Here's hoping the administration there is less hysterical about cake decor.