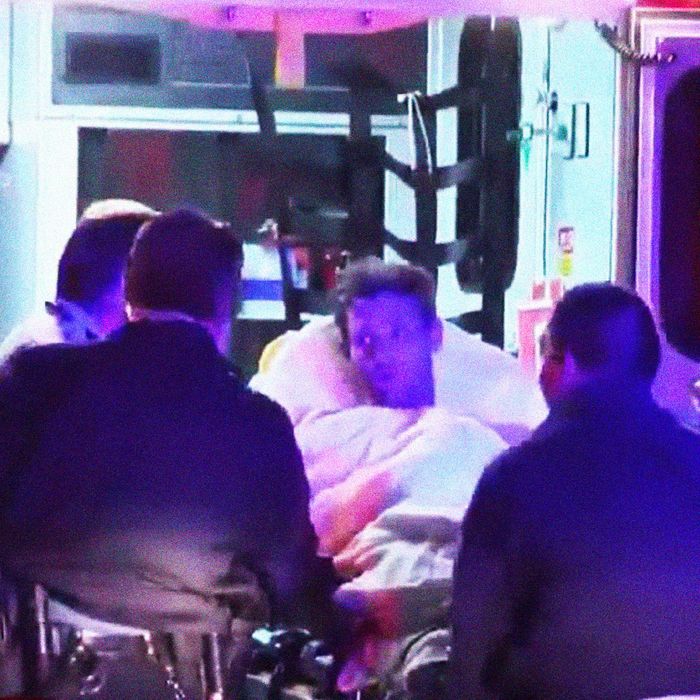 A stabbing victim in Colorado Springs.
Photo: KOAA 5/Youtube
In the early hours of Monday morning, a suspect went on a stabbing rampage in Colorado Springs, wounding eight people — some of whom halted the attack by restraining him. As of now, police say there is no threat to the community at large, as the suspect has been taken into custody, and law enforcement believes he acted alone. Meanwhile, officials are directing their attention toward deciphering what may have motivated the attack, as they believe he attacked his victims at random.
Here's everything we know.
There were a series of stabbings in Colorado Springs.
On Monday morning, around 1:30 a.m. local time, law enforcement received reports of a stabbing in downtown Colorado Springs, a city approximately 70 miles south of Denver. According to a police statement, when law enforcement arrived on the scene, they discovered two people who had been stabbed, the New York Times reports. Officials then split up in an attempt to catch the attacker, whom witnesses said ran toward a nearby park, during which they came across more stabbing victims. Then, around 2 a.m., police finally found the suspect, whom they say was being held by even more victims.
In a statement to KKTV11 News, Colorado Springs Police sergeant Shawn Peterson thanked the community members who helped treat the victims and directed police toward the suspect, crediting them with helping law enforcement "stop [the suspect] from hurting anybody else."
Eight people were wounded.
According to police and local medical officials, there are eight known stabbing victims, seven of whom were taken to UCHealth Memorial Hospital Central. In an interview with the Times, hospital spokesman Dan Weaver said that five of the victims have been released, and did not comment on the status of the other two. (The status of the eighth victim, who was reportedly not taken to the hospital, is unclear.)
A suspect has been taken into custody.
In a statement, police say that the suspect — who has not yet been publicly identified — was taken into custody. As of Monday afternoon, they do not believe the suspect acted in tandem with anyone, and they say there is no ongoing danger to the community.
Police believe the attacks were random.
While law enforcement has not identified any of the victims nor the suspect, they have said that "there was no known relationship between the suspect and the victims," suggesting that people were stabbed at random.