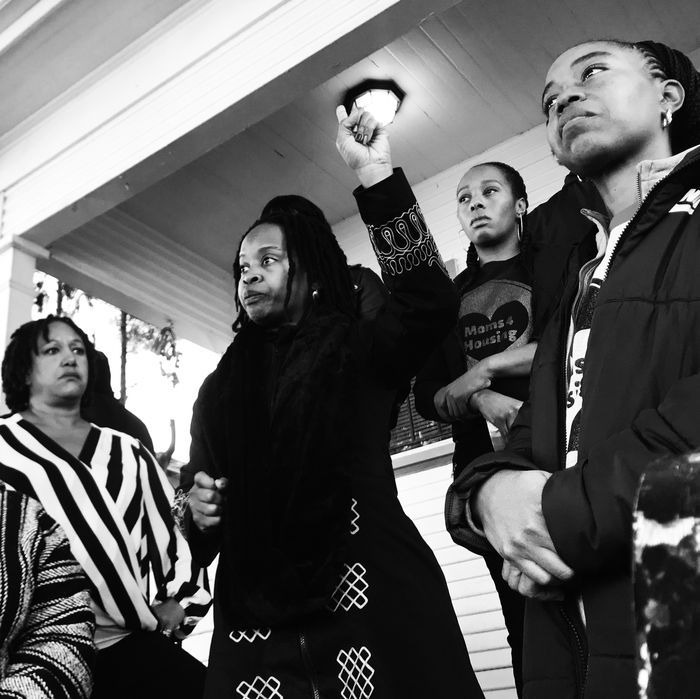 It's no secret that Oakland is being gentrified at a brutal rate, but the mechanisms that drive the ever-growing wedge between rich and poor in the city are often intentionally opaque, elided by a swarm of legal precedents and loopholes that benefit private property owners. A group of homeless mothers, united under a movement they call Moms 4 Housing, have for the past couple of months been exposing and thwarting those mechanisms through an act of civil disobedience: occupying a vacant three-bedroom house at 2928 Magnolia Street owned by a house-flipping firm with aggressive eviction tactics.
In November, three families moved into the Magnolia Street house. "They washed the walls, installed a water heater, hauled their kids' bunk beds upstairs," according to the New York Times. "They paid the water and electric bills." They were seeking shelter for themselves and their children, but also making a political statement: that housing is a human right.
Last week, the mothers lost their legal case against real-estate investment firm Wedgewood Properties; on Monday, hundreds of supporters rallied outside the home they'd been occupying. On Tuesday afternoon police showed up with riot gear, armored vehicles, battering rams, and guns drawn to forcibly evict them, along with their families. Two of the mothers were arrested at the scene, as were two of the protesters. One of the mothers reportedly said as she was being taken into custody, "Why are you taking me to jail? I'm just trying to protect my children."
Each arrestee was charged with misdemeanors for obstruction of police officers; they were reportedly held at the Santa Rita Jail briefly, then released by Tuesday afternoon after each posting $5,000 bail, likely from money raised on a GoFundMe account.
"The goal of our organization is to reclaim houses back into the hands of the community and to house unsheltered mothers and children," said Dominique Walker, one of the cofounders of Moms 4 Housing and a lifetime community organizer, in a November press conference. "There's four vacant houses for every one homeless person in Oakland." The house at Magnolia Street, which she occupied with her two children, had stood vacant for two years beforehand.
The city's housing crisis is dire: Homelessness has risen by 47 percent since 2017, and the U.S. Census Bureau reported that the median rent rose from $1,255 to $1,498 in 2018 alone. There are tens of thousands of vacant houses in the Bay Area, according to the Census, nearly 6,000 of them are in Oakland.
The New York Times reports that Wedgewood Properties, the owner of the now vacant Magnolia Street residence, said in a news release, "The solution to Oakland's housing crisis is not the redistribution of citizen's homes through illegal break-ins and seizures by squatters."
In addition to the house the mothers were forcibly removed from on Tuesday, Wedgewood owns 125 other homes in the Bay Area across at least 98 LLC's, according to a recent report by NBC. Its investigation also turned up more than 300 lawsuits involving the company since 2015, most of them related to eviction practices.
These numbers are likely low since, as NBC reports, the company's business model is "centered around buying, fixing, and quickly flipping homes, [meaning] Wedgewood rarely holds onto homes for long." Leah Simon-Weisberg, who is legal director for the Alliance of Californians for Community Empowerment and until recently was organizing the eviction defense of the mothers, told NBC of Wedgewood, "They basically get properties that people are living in and then their job is to evict them."