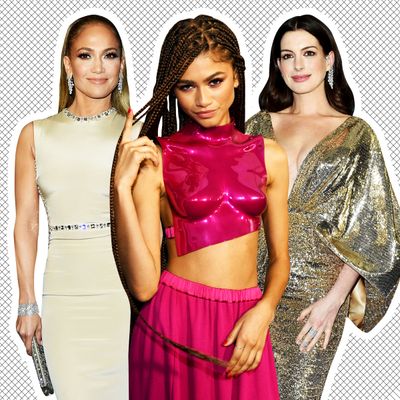 Nominations for the 2020 Academy Awards were announced on Monday morning, but hold on — let's not forget about the Critics' Choice Awards, which took place on Sunday night and included all sorts of shiny, outrageous red-carpet looks. Following the Golden Globes last weekend, celebrities including Jennifer Lopez, Billy Porter, and the Hot Priest once again turned up in their best suits and gowns. Zendaya wore boob armor! I don't know who these "critics" are, exactly, and how they make their "choices," but I have some thoughts on the red carpet. Below, we parse the best, worst, and most shocking fashions.
Best Surprise: Anne Hathaway
Damn, Anne Hathaway looks good! That was my first and most passionate thought about last night's red carpet. I feel like I haven't seen her in a while? She's reportedly been busy with her second child, who was born in December. Congrats, Anne Hathaway, and welcome back into our collective consciousness.
Most Compelling Case for a Tattoo: Billy Porter
Always the pinnacle of personal style on the red carpet, Billy Porter stood out once again with a cluster of butterflies tattooed on his chest, framed by a two-tone gown by Hogan McLaughlin. Porter told reporters on the carpet of that his tattoos were "a representation of the transgender community. The butterfly comes into the world as one thing in cocoons and transforms into this beautiful creature that can fly."
Best Chandelier Impression: Florence Pugh
Her white Prada dress was covered in sequins, and even her Jimmy Choo shoes were bedazzled. She looked lovely, but how did she sit down?
Dress We'd Most Like to Tile Our Bathroom With: Cynthia Erivo
Cynthia Erivo is a rising red-carpet star. She's got oodles of personal style — just look the glasses she wears in Instagram selfies! — and always seems game to try a flashy, complicated gown or suit. Last night she wore a bold print dress by Fendi — one of the first from the house since Karl Lagerfeld's death. It looks like the floor of an Italian palazzo, and I want it on my body as well as in my home.
Biggest Rebound: Jennifer Lopez
J.Lo can do no wrong, but her Golden Globes dress was … disappointing. As the internet pointed out, it looked like a giant, belated Christmas present. This time around, though, she looked simple and elegant in Georges Hobeika. She also showed off every inch of her Hustlers physique, as she should.
Most Casually Hot: Charlize Theron
God, can you imagine? She looked so good in a perfectly tailored Celine gown by Hedi Slimane, but then was like, Eh, I'm kinda chilly, and threw a blazer over her dress … and still looked hot! Inspiring.
Most Likely to Make Us Repent: The Hot Priest
What have we done to deserve this look? I'm so sorry. Please. I'm sorry!
Best Wait, Who Is That?: Joaquin Phoenix's Sister
She seems very cool and I like her jumpsuit. Also her name is "Rain."
Best Accessory: Joey King's Candy
This Prada look is good, but Good & Plenty are delicious. Smart woman.
Gwyneth Paltrow's Favorite: Zendaya
I can't believe I'm saying this but: Wow! What a time for boob armor! Gwyneth Paltrow recently wore a breastplate by Tom Ford on the cover of Harper's Bazaar. Then Zoë Kravitz was photographed wearing a similar style in Elle. And now Zendaya has taken the shiny breastplate to the red carpet. "Thank God I can say I have something in common with Zendaya," Paltrow commented on Instagram.
Still Hot: Marni's Ex From Girls
Is he still hot? Yes, he is.
Prettiest Floral: Saoirse Ronan
[Extreme Irish accent:] M'lady! What a lovely Erdem dress you have there. With a turtleneck collar, no less. Out of all the dresses at the Critics' Choice Awards, this is the one I'd be able to sit in for the longest.