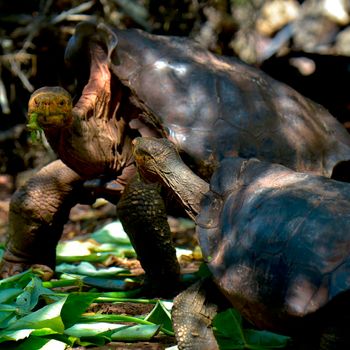 A prolific sex tortoise.
Photo: RODRIGO BUENDIA/AFP via Getty Images
A real horndog of a tortoise has been allowed to retire after doing his bit to save his species. At over 100 years old, Diego has been credited with helping to make about 800 tortoise babies for the Fausto Llerena Tortoise Center in the Galápagos Archipelago. Having accomplished his core task — reportedly with great gusto — he can now hang up his sex hat to enjoy a chaste (ha, Diego would never) quiet life on his native Española Island, according to the New York Times.
Diego's sexual reputation precedes him. When he first moved to the center in 1976, from the San Diego Zoo, there were just 15 members of his species left: two other males and 12 females. Now, thanks in large part to Diego's work ethic, there are 2,000 tortoises, which the Galápagos National Park and Galápagos Conservancy consider sufficient to end the program.
Here's Diego, getting the job done.
To give credit where credit is due, another specimen, E5, actually fathered more offspring than Diego did. The reason you don't hear much about E5, however, is that he's "more reserved" and "less charismatic" than our little Lothario (or, not so little; Diego actually measures about five feet at full extension), James P. Gibbs, a professor of environmental and forest biology at the State University of New York in Syracuse, told the Times. Diego has "a big personality — quite aggressive, active and vocal in his mating habits and so I think he has gotten most of the attention," Gibbs said. "But it clearly is the other, quieter male that has had more success. Maybe he prefers to mate more at night."
Or maybe, because tortoises also form relationships — recall the gutting tortoise breakup of 2012 — the issue is that belligerent men can be very off-putting indeed. Who can really say for sure? Regardless, congratulations on your long and fruitful career, Diego. We're all very proud.