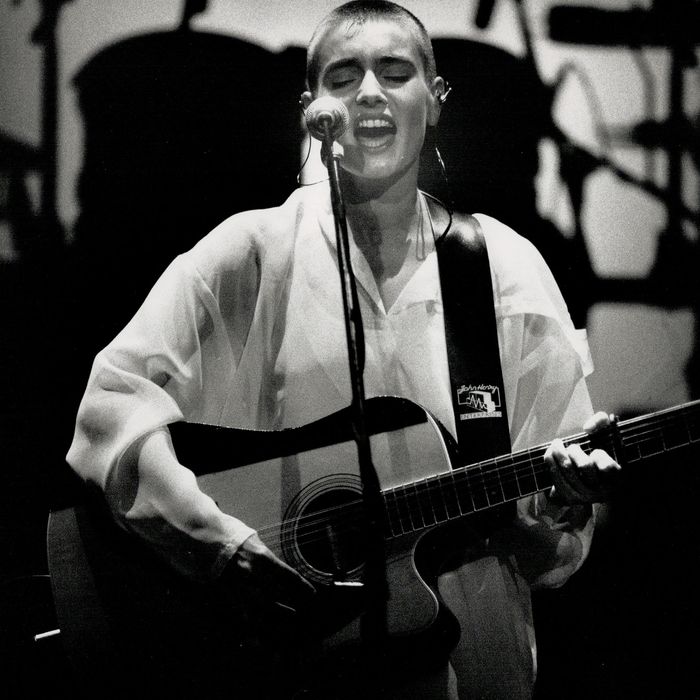 Photo: Mike Slaughter/Toronto Star via Getty Images
"This article originally appeared in the April 9, 1990 issue of New York Magazine. We're republishing it here as part of a retrospective of Elizabeth Wurtzel's work for the magazine."
In his short story "Innocence," Harold Brodkey writes of his leading female character, "To see her in sunlight was to see Marxism die." Nearly the same can be said of Sinéad O'Connor: To experience her is to watch all standard aesthetic notions and musical theories become irrelevant. O'Connor's shaved head ought to give her the menacing look of a skinhead. Instead, it highlights her startled blue eyes and the fragile innocence that makes her seem like a rock-and-roll E.T.
The music on her 1987 debut, The Lion and the Cobra (Chrysalis), had a similar effect. In tender moments, like the love fantasy she describes in "Just Like U Said It Would B," O'Connor's delicate voice would suddenly explode into voluminous wailing, and the result straddled the beautiful and the unbearable. O'Connor's production sensibilities, too, spanned a vast range — she combined hip-hop, traditional folk, and orchestral arrangements all in one song.
People who didn't like or didn't "get" Lion are likely to prefer her smooth, radiant new album, I Do Not Want What I Haven't Got (Chrysalis). It lacks the glitches, the demanding excesses, and artist misfirings that made Lion so remarkable. But this is still a complicated and pensive album that takes a journey deep into the singer's soul, and it strongly resembles Bruce Springsteen's most edgy and introspective work, Darkness on the Edge of Town, which was recorded after the shock of fame, fortune, and misfortune that followed Born to Run. But I Do Not Want is ultimately a happy, even soothing album, tracking the spontaneous combustion of fame that has burned and turned slowly into O'Connor's newfound inner peace: At 23, she is the married mother of a toddler son, and, as the title implies, she is quite content in this role.
O'Connor opens the album by reciting the prayer "God grant me the serenity to accept the things I cannot change / The courage to change the things I can / And the wisdom to know the difference." These words, as veterans of Twelve-Step Programs know, are also the AA mantra, recited at most meetings, and they set the album's moral tone.
O'Connor has said that she used to believe herself to be the reincarnation of Saint Bernadette, and on her songs she often seems to be striving for a vision of the Virgin Mary. This intensity can at times turn self-referential. On "The Emperor's New Clothes," an otherwise excellent song, she refers to "how a pregnancy can change you" and asks, "How could I possibly know what I want / When I was only 21?" There are other moments when O'Connor rails against her public persona ("You're a fool to attack me/ For the image that you built yourself"), and though these references to her personal life might mean a lot to O'Connor, they aren't particularly relevant to the listener.
Even where the lyrics are a bit much, I Do Not Want is always musical. "I Am Stretched on Your Grave" has a snappy drumbeat and a pretty line of fiddle-playing that only adds to the desperate sadness of O'Connor's voice as she sings of a love that even death will not end ("I am stretched on your grave / And will lie there forever / If you hands were in mine/ I'd be sure we'd not sever").
But her rendition of "Nothing Compares 2 U," an obscure Prince track previously recorded by the Minneapolis band The Family, unites all of O'Connor's best musical instincts. The dramatic, symphonic arrangements are obviously inspired by Prince, but the misery of longing makes the lyrics sound like something O'Connor wrote herself. "It's been seven hours and fifteen days / Since u took your love away," she sings in the beginning, pinpointing a sense of despair that is so deep that time becomes palpable. Flowers die, every boy reminds the singer of her lost love, and the whole world seems overcome by grief during the song. Sinéad O'Connor manages to make us live in her world, and it's hard to listen to I Do Not Want What I Haven't Got and not become consumed by it. She and her album are that powerful.
Another woman who is combining ancient musical forms with a contemporary beat is Ofra Haza, an Israeli who is on her new album, Desert Wind (Sire/Warner Bros.), mixes synthesizer dance sounds with Hebrew and English lyrics in the canalistic, mystical tradition of her Yemeni heritage.
Purists might argue that nothing Haza has done recently can compare with the simple elegance and honesty of her first international success, Shiri Timon, released here as Fifty Gates of Wisdom (Shanachie), which could not have been played in discotheques. But Haza's high and haunting voice becomes powerful and austere when set against the repetitive drone of the drum machine. The dance beat that Haza uses is less a commercial ploy than a way of updating a tradition. On her club hits "Galbi" and the mesmerizing "Im Nin'Alu," Haza sounds as much like a holy priestess as a disco diva. Her work loses none of its spirituality, since the use of repeated chants and nonsense words — the first single off Desert Wind is called "Ya Be Ye" — is both a standard of liturgical Hebrew songs and a commonplace of dance music. At times on the new album, especially when Haza writes in English, the effect is quite foolish. The song "Middle East" gives a complicated issue a simpleminded treatment: "In my land there is war/ And we're losing our soul/ And ideology is/ Losing meaning." But "Taw Shi," which was produced by Thomas Dolby, combines a funky, strong beat with the exotic, erotic sounds of traditional Middle Eastern music. Still, as with much dance music, a lot of Desert Wind sounds more or less like the same song over and over again. The novelty of combining religious music with drum programs is interesting only the first few times. Haza is at her best on the slow, dolorous closing cut, "Kaddish." Using both English and Aramaic lyrics, and even mixing in the sound of men's voices reciting this prayer of mourning, Haza's unadorned singing and quiet instrumentation beautifully merge this sacred ritual with the secular world.
In brief: After building strong followings in Boston and Providence, the Rain Dogs have made a rock-solid debut album, Lost Songs (Atco). Their subject matter ranges from Dylanesque profundity ("May Your Heart Keep Beating") to subtle irony ("The Place I Like to Call Home"), but far more interesting is their use of rolling guitars and drones that suggest when REM might sound like if they used standard electric guitars instead of Rickenbackers. Cheryl Hodges's background vocals give the album a Motown soulfulness, while the fiddle and mandolin add a bit of a country twang … The members of Galaxie 500 have made a name for themselves as the new darlings of alternative radio with on fire (Rough Trade). The album's eerie, stark, melancholy sound was obviously inspired by The Velvet Underground. But whatever its other merits as dark mood music, on fire cna get tedious… On the subject of repetition, the Lounge Lizards' new album, Voice of Chunk, is an almost completely wordless collection of musical themes and variations played with a jazzy, dreamy effect that is alternately discordant and sweet. At times, the album sounds like the Wagner played in Nazi propaganda films, but the result is always hypnotic and fascinating. Group leader John Lurie describes it accurately as "strange and beautiful," but for some reason, this wonderful album does not have a record company to release it. Call 1-800-44-CHUNK to order it … From the opening line, "I love you from the bottom of my pencil case," it's clear that Welcome to the Beautiful South (Elektra) is going to be an album with a twisted sense of humor. The Beautiful South, a British band, is a partial reunion of the Housemartins, and the group shows a keen ability to combine pretty melodies with perverse lyrics. This band's cover of Pebbles' hit "Girlfriend" is worth the price of the album.