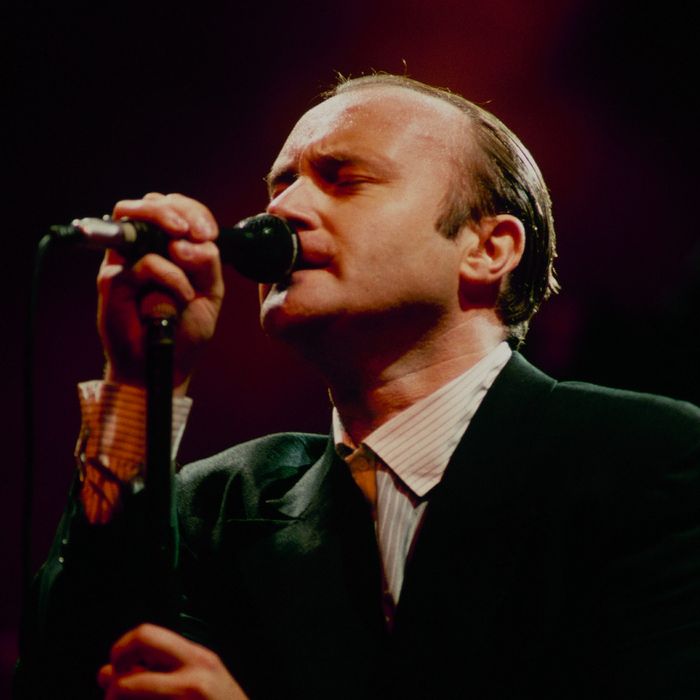 Photo: The LIFE Picture Collection via Getty Images
This article originally appeared in the January 8, 1990 issue of New York Magazine. We're republishing it here as part of a retrospective of Elizabeth Wurtzel's work for the magazine.
Maybe it's a good thing that so many rock stars have recently released albums that grapple with the fate of the earth. It's probably nice that Madonna can lead a benefit at BAM ("Don't Bungle the Jungle") to help save the rainforest while String writes articles and appears in films and on the Today show to discuss the same issues. I suppose it's lovely that Tracy Chapman can make a triple-platinum album that covers everything from racism to sexism to nuclear war — throw in the plight of the American farmer and it would be hard to tell the difference between her records and the Democratic Party platform. And it's great that being politically correct and socially conscious is in vogue. But, well, enough already!
And Phil Collins is where I draw the line. It's hard to know what to make of his new album… But Seriously (Atlantic), and "Another Day in Paradise," the No. 1 song that it has spawned so quickly. To the casual listener, it sounds like any other Phil Collins work — funky, smooth, jazzy, and accessible. But a closer listen to the record (or, more likely, the CD) reveals songs about Big Issues — homelessness, racism, South Africa, poverty, and all the other causes du jour that Collins manages to make sound so trite. Somehow, lines like "All around the township/ Yong men are dying/ Hunger and thirst/ The well has run dry/ The tears from her eye feeds her son" sound inane coming from Phill Collins — Phil Collins, the career lightweight who wrote nonesense songs like "Sussudio" and made a living from his own apathy by scoring hits with titles like "It Don't Matter to Me" and "I Don't Care Anymore."
There is a school of thought that says that getting out certain messages to the masses or publicly pondering the ills of the world is a valuable service, so even if someone like Collins sounds a little hackneyed in his rage, even if he is just reciting slogans everybody has heard once too often, better he do this than nothing at all. Good propaganda, the theory goes, justifies bad art.
But does it ensure bad art? Any number of musicians have managed to combine social concern and music with grace. Lou Reed's New York (Sire) is a masterpiece that chronicles the times without compromising the integrity of the music itself. (In a brilliant move, Reed even makes fun of preachy rock stars, absolving himself of accusation with the line "Does anyone need another self-righteous rock-and-roll singer?") Paul Simon's Graceland (Warner Bros.) was both a creative and political triumph. Prince's lasciviousness and musical virtuosity made even the grimness of Sign o' the Times (Warner Bros.) completely palatable, while newcomer Lenny Kravitz (better known as Mr. Lisa Bonet) made a bold, angry album, Let Love Rule (Virgin), that was so soulful and spiritual, it was hard not to love. Public Enemy's "Fight the Power," from the movie Do the Right Thing, was, no competition, the best protest song since "Anarchy in the U.K." And once upon a time, Bob Dylan — not to mention the Beatles, Neil Young, the Rolling Stones, Sly and the Family Stone, among others — could vent rage with a spirit that not only was acceptable in the rock idiom, it was essential to it. Rock and roll, to paraphrase Pete Townshend, was not supposed to allow you to forget your problems but it sure could help you dance all over them.
But when Phil Collins waxes philosophical, his thoughts are not integral to his sound — they're just stuck on it arbitrarily, the way a blindfolded little kid playing Pin the Tail on the Donkey aims right for the animal's head. Collins has window-dressed a store with profundity, but what he's really selling is fun, romance, and an upscale lifestyle that needs its guilt assuaged by "Another Day in Paradise." These annoying pretenses aside, … But Seriously does have that pleasant Phil Collins touch, and songs like "I Wish It Would Rain Down" (with Eric Clapton's killer guitar) and "That's Just the Way It Is" (which sounds like a love song though it's about Northern Ireland) are simple, straightforward, and genuinely emotional, which is what the rest of the album ought to be.
On the topic of tropical music, The Hooters' third album, Zig Zag (Columbia), succeeds where Collins fails outright. The Hooters are not a band I would expect subtlety from, since their first hit, 1985's "All You Zombies," was bloated with references to Moses, Pharaoh, the Israelites, and all sorts of gibberish about sin and redemption. And the band's entry in the annals of commentary about homelessness, "Brother, Don't You Walk Away," is as blatant as can be, which in this case is precisely why it's a great, invigorating, provocative song.
Something about that opening cut forces you to stop and listen, and it's not just words like "Well, I pass him by on the street each day/ He's about my size and about my age/ Down a different road, might've been my friend/ But you never know how the read will bend/ Tell me why is it so hard to say/ Brother, don't you walk away." These lines tap into some fairly common fears and ambivalences about street people, but what makes them work are the quick, hard strums of the acoustic guitar that opens the track, Eric Bazilian's hoarse, intense vocals, and the unadorned hard-rock sound that sustains the song throughout. "Deliver Me," a bitter, angry love song with the same sense of anguish as "Brother, Don't You Walk Away," keeps Zig Zag going with the same rawness.
One nice touch was having Peter, Paul, and Mary do harmonies on a reggae-ish version of "500 Miles" — kind of "the old fogies meet the neo-folkies." The only time the Hooters' critical reference points start to zigzag in a bad direction is when they turn on the music industry itself with "Give the Music Back," a stab at MTV and the video-ization of rock and roll, which was already a tired topic when Dire Straits did "Money for Nothing" in 1985.
Last time Dallas sent us a pretty young singer from its burgeoning music scene, she became a pretty big star. That was Edie Brickell, of New Bohemians fame, in 1988. Though lightning rarely strikes twice, I can only wish the same fate for Sara Hickman, whose folk-flavored debut (she prefers the term "acoustic rock"), Equal Scary People (Elektra), is wonderful. Since comparisons to Brickell will be inevitable if this album goes anywhere, they should be disposed of quickly: Brickell is ethereal while Hickman is like a send-up of the homecoming queen; and while Hickman can't write Brickell's precise lyrics, she has a far wider vocal range.
What distinguishes Hickman from the recent onslaught of female folkies is her perfect pipes, clear and strong where others' are rough-hewn and whiskey-weakened. Her singing has the same effect on the body and soul as a tall glass of iced tea on a sweltering summer day — it's cool, soothing, and sweet. She's also a damned good guitarist, and though Equal Scary People is essentially a more robustly produced version of an independently released album from last year, it's still mostly acoustic and clean.
Hickman's best song is "Simply," a straightforward serenade with eloquent lyrics like "We can't be one/ But two is fine with me/ You've got your time/ I've got mine/ I don't want you under my hand/ I just need you to understand." However, her most impressive feat is a feminist rendition of James Brown's misogynistic "It's a Man's, Man's, Man's World." Somehow, when the Godfather of Soul talks about the way man invented the light bulb and the automobile, he makes it all sound so terrific, while Hickman gives you the feeling that those silly men with their silly gadgets and technological advances would truly be "nothing without a woman or a girl." She easily puts thousands of years of sexism to shame.
Hickman's own songs are polished and smooth, serious but not somber, and ballads like "Song for My Father" are tender without becoming sentimental. The title track, an upbeat tune about offbeat people, is so reminiscent of one of Joni Mitchell's shy, alienated songs about the high life in Hollywood — "People's Parties" comes to mind — that it's not surprising that Hickman's debut has been compared to Court and Spark.
Since Equal Scary People was co-produced by Carl Finch, of the campy polka-rock band Brave Combo, a few of the songs, like "I Wish I Were a Princess," have a carnival quality to them that reminds me a bit of Cyndi Lauper — which is a shame, since Sara Hickman is so much more talented.
With the goods stacked against them higher than a pile of remaindered records, most new bands that aren't gorgeous, ugly, weird, or gimmicky will just disappear into bargain bins. Even if they are signed with a major label — especially if that label is too busy focusing on it big acts — a good, solid, hardworking group of musicians can easily get overlooked. I hope against hope that this doesn't happen to the Subdudes, a New Orleans band that creates joyous, sexy, full-bodied songs that are so good, they sound like classics even though they're brand-new.
Though the Subdudes aren't quite a Neville Brothers derivative, they sound as if they grew up on the kind of Cajun-flavored music they learned to play by sneaking into Tipitina's while they were still teenagers. The band's debut, Subdudes (Atlantic), is so romantic that it's the perfect album for a winter night at home with your honey.
One especially refreshing thing about the Subdudes is that they sing good, honest lovers' love songs at a time when too many acts would rather sing about — well, frankly, Big Issues. All the Subdudes' songs, from "Any Cure" to "Light in Your Eyes" ("Each and every night/ You move so free/ You seem so young at heart/ You must have had a head start/ On me") to "Need Somebody," are simple and full of passion. Lead singer Tommy Malone has a full, rumbling voice (which bears an uncanny resemblance to Michael McDonald's), and against a backdrop of Big Easy barroom music, it is surely one of the sweetest sounds to come out of 1989.