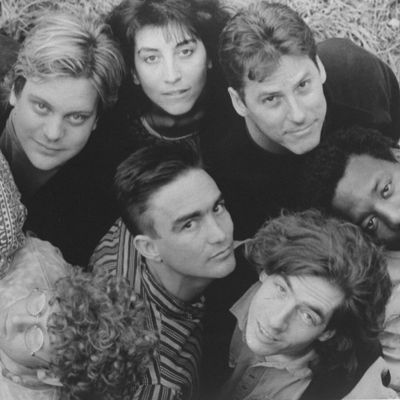 Photo: Mike Stewart/The LIFE Images Collection via Getty Images/Getty Images
This article originally appeared in the November 13, 1989 issue of New York Magazine. We're republishing it here as part of a retrospective of Elizabeth Wurtzel's work for the magazine.
Every so often, a band turns up that is so strange, smart, and refreshing that the only way you can respond is smile and be glad that some smart A&R person signed this quirky group even though they don't look or sound like the next Guns n' Roses. Poi Dog Pondering is such a band. The group formed in an airport in Waikiki on August 15, 1986, when the leader/singer/songwriter/guitarist/frying-pan-and-wood-block player Frank Q. Orrall invited a bunch of musician friends to join him on a flight to Los Angeles. The nine players who showed up became a caravan touring the mainland, playing in the streets for food and gas money.
Columbia Records has just signed the band, now based in Austin, and released Poi Dog Pondering, a compilation of their two independently produced records; a fresh album is due sometime in February. The samplings of songs on this first record combines bluegrass, Middle Eastern, Eastern European, zydeco, and folk music played on everything from Latvian kokle to hula titia to more conventional instruments like accordion, mandolin, violin, and guitar. (Poi Dog Pondering is not just a band; it's a rock-and-roll orchestra!) The group's equally idiosyncratic lyrics — "She says my work is like eating cold oatmeal/ Yesterday's oatmeal, day after day / And, she's right," for instance — make sense only in a weird, senseless way.
Poi Dog Pondering sounds like a backyard party on Labor Day weekend where everyone is drinking Rolling Rock and dancing around in flowered skirts and Bermudas, shivering in their windbreakers while their bare legs get goosebumps as the chilly air of autumn first sets in. This album desperately hangs on to every last bit of fun in the sun. It opens with the creepy sounds of a recorder and tin whistles and bops into a whole range of strings and brass on "Living With the Dreaming Body." Nest is "Fall Upon Me," a tender, sensual ballad with prettily poetic lines like "Fall upon me like a hundred flowers … / Give me the breath of life / From your loving chest."
The best cut on the record is "Postcard From a Dream," which begins with acoustic guitar and banjo that becomes a multi-instrument jam propelled by a beat that makes you want to get up and boogie around your living-room floor. Two of the highlights of "Postcard" are Susan Velz's violin and the sweet harmonies she works up with Orrall. The song has an earthy joyousness that you could once count on from the Grateful Dead in songs like "Sugar Magnolia." (When the band played the Bottom Line in October, their onstage antics resembled nothing so much as those of the Dead in their heyday, and near the stage, youthful neo-hippies with long hair, do-rags, and tie-dyed shirts pranced around doing their Dead-head dance.)
While we're on the subject of the Grateful Dead, their new album, Built to Last (Arista), is as good as anything they've done in the studio in the past fifteen years, which is kind of like saying that Brigitte Bardot's animal-rights activities are as good as anything she's done with her clothes on. The Dead are a live band, and that is that. But on Built to Last, Jerry Garcia and company sound as tight and toned as they ever have, and the album rocks so hard that if it weren't for the trademark twang, it would be hard to tell that this is a Grateful Dead album. Unlike their previous efforts, this is a genuine studio album. The songs have been worked out in the studio, so for once, self-righteous Deadheads won't be able to say things like "I heard that song back in '79 and it was nine minutes and 32 seconds long, not 5:11 the way it is now — and Bobby Weir did the lead instead of Jerry."
Though there are a number of contributing songwriters on Built to Last, the two best cuts are by the tried-and-true team of Garcia and Robert Hunter, who wrote the mystical but cutesy "Foolish Heart" and the dreamy, thoughtful "Standing on the Moon." Also worth mentioning is Brent Mydland's sweet lullaby to his daughter, "I Will Take You Home," which closes the album. When the Grateful Dead start rhapsodizing about the joys of fatherhood, you know the times have changed.
The funny thing about glasnost is that much of what it lets us see of Soviet culture is pretty awful. Rock and roll is a case in point. Many young Soviet musicians want to sound just like Us, not Them.
Gorky Park is a Soviet rock band that, given the vast spectrum of American music, has chosen to sound just like Bon Jovi. Which is why Jon Bon Jobi and Richie Sambora (two of the guys responsible for giving Cher her latest hits) have produced a track, "Peace in Our Time," on the band's dreadful English-language American debut. Packaged with misguided sincerity (the album covers flaunts a quotation that begins, without irony, "Rock and Roll is our religion — what we believe in and what our souls live on … "). Gorky Park (Mercury) mostly proves that if a bunch of men in Russia want to make bad rock music that is high in testosterone and low in content, they can do it just as well (or as badly) as Americans can. The saddest thing about this is that it sounds like the sort of stuff that colonized countries, ceaselessly impressed by Americana, might make. Why go all the way to the Soviet Union to find Red rock that sounds like the worst of what we already get here in the red-white-and-blue?
If you buy only one album between now and the end of the decade, make sure it's by Melissa Etheridge. Her debut last year, Melissa Etheridge (Island), was so shockingly emotional — nothing had sounded this raw and real since Janis Joplin — that it seemed likely she'd be too winded to do a decent follow-up. Etheridge doesn't just sing; she gusts. She plays with a simple four-piece band, and the focus of her spare songs is elegant lines ("I got a two-dollar store / Midas in my touch and Delilah in my hair") and a voice that's been toughened by its fair share of hard times and heartache.
I was expecting her newest album, Brave and Crazy (Island), to suffer from the usual sophomore slump. But it doesn't. In a bold departure from her debut, not all of the album's songs are about love and lust. "You Can Sleep While I Drive," about escaping the small-town boredom of it all (Etheridge hails from Leavenworth, Kansas), is a feminine version of Bruce Springsteen's "Born to Run," a nice touch considering that Etheridge's wiry intensity has often been compared to that of the Boss himself.
The album's best song, "My Back Door," is a desperate search for the things we lose — the ability to feel, for instance — on our way to becoming older and wiser. The images of naive youth ("I believed in the stars … ") early in the song are a bit tired, having been done by William Blake and every sappy singer-songwriter of the early seventies, but in the end Etheridge, searching for her lost innocence, conveys a real sense of panic when she screams, "So I run into the street / And I'm shouting into the phone / Asking everyone I meet / I say have you seen it on my doorstep … / Was it on the back of some guitar / Is it sleeping in the hallway / Does it cry all night alone / Is it selling itself for money / Does it want, does it want to come home?"
Brave and Crazy's first single, "No Souvenirs," the catchiest song she's yet recorded, covers Etheridge's familiar terrain of pain and longing. The song is about a relationship so lonely and fragmented that it ends with a message on an answering machine ("Hello, hello, this is Romeo … "). And Etheridge's point seems to be that life has gotten so impersonal, so technological, that we can't even talk to each other face-to-face anymore. Her antidote is to get extremely honest and personal through her music. I hope she sets a trend for the nineties.
At last, Linda Ronstadt has released an album that is not a collection of Nelson Riddle–backed standards or mariachi music but just Ronstadt doing what she does best — singing good songs. Cry Like a Rainstorm — Howl Like the Wind (Elektra) is a solid piece of work that's a pleasure to listen to — if only it didn't try to hard to be a masterpiece.
Ever since Ronstadt's California brand of peaceful-easy-feeling country rock faded with the seventies and left her doing a string of genre records (worst of all was the yuppie-punk Mad Love), her sole goal has been to become a great, polished, and accomplished vocalist in the Barbra Streisand mold. On the new album and on her other recent efforts, her voice has been a fine-tuned instrument, her phrasing perfect, and her pitch and tone balanced and clear. The only thing she lacks is passion. All the songs on her newest are sung precisely and beautifully, but the emotions are often less than visceral.
In addition, Ronstadt sings with an orchestra, so Cry Like a Rainstorm sounds like a collection of standards, thought it isn't. This is compounded by the over-wrought and treacly background vocals, done by everyone from the Oakland Interfaith Gospel Choir to Brian Wilson. The Ronstadt signature that once made Bob Dylan's "I'll Be Your Baby Tonight" so sexy and "Long, Long Time" so sad is nowhere to be found. Here is the triumph of style over substance.
Nonetheless, the album is so slick and smooth that I've found myself listening to it an awful lot since it makes a fine accompaniment to an end-of-the-day headache. And Cry Like a Rainstorm's saving grace is the presence of Aaron Neville on several tracks. Neville's more successful duets with Ronstadt add some smoggy New Orleans soul to her straightforward signing. Their cover of the Nick Lowe/Paul Carrack/Martin Belmont tune "I Need You" is fun and jolly, Neville's falsetto harmonizing beautifully with Ronstadt's soprano. Unfortunately, when the songs are chosen more for their vocal possibilities than for their emotional honesty — as with "Don't Know Much" and "All My Life" — the pair sounds like a gifted version of Peaches and Herb. Yes indeed, parts of this record are kind of campy. But Ronstadt's move away from straight genre music bodes well for the future. Maybe next time she'll even lose the orchestra and get back to the simple pleasures of a small band.