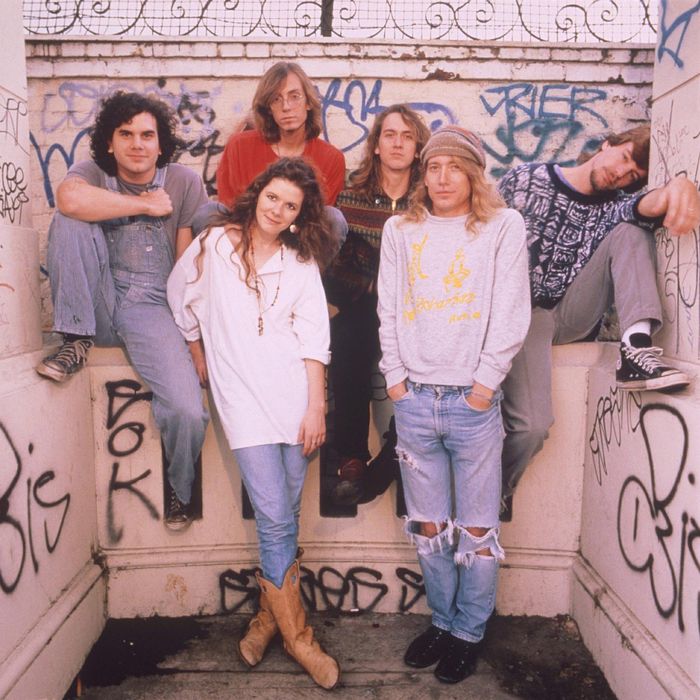 Photo: Unimedia/Shutterstock
This article originally appeared in the November 12, 1990 issue of New York Magazine. We're republishing it here as part of a retrospective of Elizabeth Wurtzel's work for the magazine.
Ghost of a Dog (Geffen), the new album from Edie Brickell and the New Bohemians, is nothing like the band's hugely successful double-platinum debut. Where 1988's Shooting Rubberbands at the Stars was tight, finely tuned, and carefully arranged, Ghost of a Dog is sprawling, disorganized, and much harder-edged. But the New Bohemian's second album isn't a sign of sophomore slump: on the contrary, it's a better work, a clearer showcase of the band's talents.
One crucial difference this time around is that the New Bohemians actually play on the album. For Shooting Rubberbands, the slickly professional producer Pat Moran thought the young band members weren't good enough. It's true that the group's strongest asset was the slouching, bohemian beauty of Brickell and the quirky, expansive songs she concocted. Hiding away in a studio in Wales, band members fought among themselves, and there was even talk of Brickell's going solo. So many other players contributed to the first album that the band should probably have been called Edie Brickell and the Session Men.
This time, Tony Berg is at the soundboard, and after touring the world, the men of the New Bohemians were deemed fit to play on their own record. Instead of playing tighter than ever, they actually sound completely loose and relaxed, as if they were doing a live show and not a studio album.
The problems this time around have more to do with Brickell than with the band. To give Ghost of a Dog some homegrown touches, there are a few of her smiley-faced little ditties included, but that's a few too many. Oak Cliff Bra is a silly preteen mediation ("Sittin' on the front porch / In Oak Cliff / With my bra"), a sort of private joke. The title track has the same problem. Brickell's strength has always been her straightforward songs, but Ghost of a Dog has several numbers that are senseless–without scansion or focus.
But this album should push the New Bohemians in a new direction. Ghost of a Dog, both musically and lyrically, is about confusion, emptiness, desperation, fear, and insanity. It opens with Brickell's "Mama Help Me," a song she sang in Dallas clubs before the band was signed. The rendition here is extremely raw and hard. There are screeching guitars and pounding drums that never would have made it on Shooting Rubberbands, although the roughness is balanced by the band's signature sound — smooth, heavy on bass and percussion.
The best feature of the song is Brickell's soprano rasp, which has an untrained quality that is temperamentally more suited to bluesy wailing than to polished performance. Brickell sounds genuinely strung out and scared as she pleads, "Crazy mean crazy people on the street/ Mean crazy mean half the people that you meet/ You can't love 'em you can't trust 'em / You can't take em anywhere / You can't hold 'em you can't tell 'em that you ever really care / Tell me where will I go when I cannot go to you / Where I don't know when you go I'm going too / Mama help me / Mama tell me what to do."
On "Mama Help Me," the powerful "Black & Blue" ("Baby baby black & blue time sure took its toll on you / What you gonna do tomorrow"), and other songs, Edie and her band become the reluctant voice of the great American void. But Ghost of a Dog isn't all abyss. "He Said" — about love and loss — is particularly touching. There is also the joyous, Latin-flavored balled "Carmelito" and the pure happy release of "Woyaho." I still prefer the trapped and frightened obsessive love songs like "Strings of Love" and "Swisted," and wish that Brickell and her band had been more selective — there are just too many tracks here.
In the end, Ghost of a Dog really is all over the place, and the songs rush at you in their meandering way. Yet somehow, you don't mind that the album sounds a bit like a work in progress. Patience has its own rewards.
There are many good reasons to buy Red Hot & Blue (Chrysalis), a collection of Cole Porter tunes sung by Fine Yung Cannibals, Sinéad O'Connor, Lisa Stansfield, k.d. lang, David Byrne, the Neville Brother, and many other unlikely suspects. Although Neneh Cherry really shouldn't be rapping to "I've Got You Under My Skin," and Tom Waits shouldn't be growling through "It's Alright With Me," the album — along with the ABC special (on December 1) — raises money for AIDS research and relief.
Whatever the compilation's other faults, everyone must hear Deborah Harry and Iggy Pop doing "Well Did You Evah!" Rumor has it that the Jim Jarmusch video that goes with the song is even more bizarre than hearing these middle-aged New York punks chatting and exclaiming from time to time, "It's all just too … swellegant." The contrast between Cole Porter's classy intentions and the campy possibilities of rock (and the even stranger attempts by some artists to be true to Porter's original notions) makes Red Hot & Blue interesting despite its flaws.
From Manchester, England — where most of the music from the acid-house scene is completely tedious unless you're on drugs — come the Charlatans U.K., who have set out to prove that bands can make it big in the industrial city by constructing good, catchy pop songs that even sober people can enjoy. But be warned: Listening to Some Friendly (Beggars Banquet/RCA) is like falling into a time warp. The loopy garage sound of organs and wawa effects is so quintessentially sixties that it resembles music from the soundtrack of a very dated movie — say, something with Shelley Winters or Elizabeth Taylor as a deranged middle-aged housewife trying to get hip to the youth culture.
The Charlatans present psychedelia without apology — and not that era's rehabilitated image. This may sound like an insult, but in fact, the Charlatans' unabashed cannibalism of those relics is charming because the group is so unpretentious. Their sound is completely relaxing but also compellingly rhythmic. "The Only One I know" has already been a big hit around the world and soon ought to be one here as well.
Galaxie 500 already has a huge, committed following in the fickle and finicky New York underground scene. But the self-importantly titled This Is Our Music (Rough Trade) — already No. 2 at the St. Marks Sounds record store — finds the group caught in the same place they were for last year's On Fire: somewhere between the second and third Velvet Underground albums, with no sign of making any progress.
The Velvets are probably the most influential band never to crack the Billboard Hot 100, but it's hard to understand how Hot Glaxie 500 has gotten so far just by cloning the group. On the first song, "Fourth of July," there is a chant of "Doo-doo-wa" that sounds like a straight ripoff of the "Candy Says" — the opening track on the Velvets' untitled third disc.
And so it goes from there: Every song has that haunted, mysterious quality that the Velvets trademarked in the late '60s. Galaxie 500 has already been hailed as the band that speaks for the twenty-something generation, which would prove the point of being bandied about so much in the media — that this age group has come up with nothing new.
When Galaxie 500 recently played CBGB, the stylish crowd looked like a field trip from a comparative-literature course at Columbia — stepping out to discover the effect of deconstruction on rock music. Like On Fire, though, this latest album has one sound that keeps getting repeated. It's a good groove, and its repetitiveness makes it hypnotic, but unfortunately it also goes a step further to become just plain soporific. Nevertheless, Galaxie 500 is capable of more and better than this, and sooner or later, the group will probably deliver on its promise.