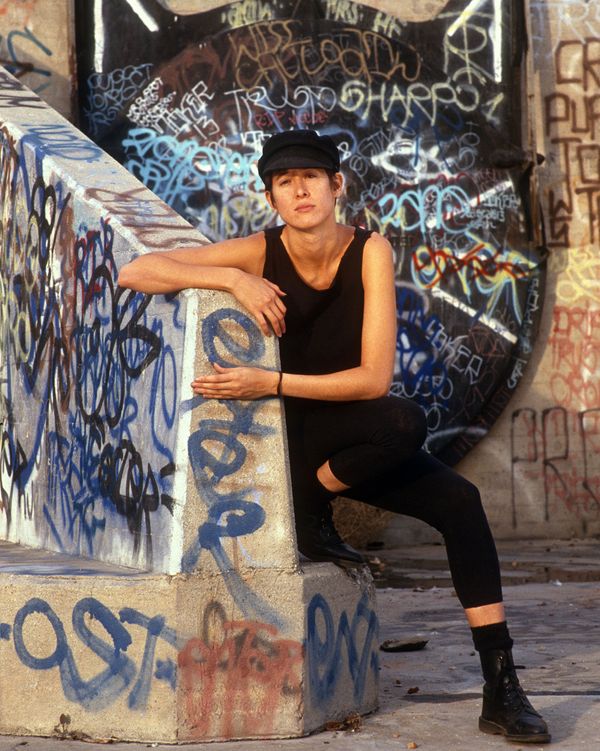 Photo: Paul Harris/Getty Images
This article originally appeared in the February 5, 1990 issue of New York Magazine. We're republishing it here as part of a retrospective of Elizabeth Wurtzel's work for the magazine.
You've got to like Michelle Shocked. Once you get beyond her pinko-Commie front and listen to her earthy words and music, it's clear that she's just an all-American gal from Dallas who, unfortunately, was given shock therapy once she started trumpeting around her mother's fundamentalist-Christian household. Hence the name.
And though Shocked's been through political fringe movements from New York to San Francisco to Amsterdam and finally to London, her songs for the most part have a simple, personal perspective that is never preachy. Her first album, The Texas Campfire Tapes (Cooking Vinyl/Mercury), was recorded live on a Sony Walkman at the Kerrville Folk Festival in Texas and eventually became a No. 1 hit in England. The cover shot for her last album, Short Sharp Shocked (Mercury), was a photo of Michelle being dragged away in a choke hold from a demonstration at the 1984 Democratic convention. But the songs inside were warm, friendly, unpretentious, especially the single "Anchorage," which narrated a letter from an old friend who's now a housewife in Alaska: "Hey, 'Chelle, what's it like to be in New York? / New York City, imagine that / Tell me, what's it like to be a skateboard punk rocker? / Leroy says send a picture. / Leroy says hello. / Leroy says, keep on rocking, girl."
The new album, Captain Swing (Mercury), sounds nothing like Shocked's earlier work. The spare folk production of Short Sharp Shocked has been replaced by big, swinging arrangements with lots of brass and strings. In many ways, Captain Swing marks a creative breakthrough that Shocked had to make to stay fresh. Though her earlier songs were often deeply personal, Shocked's world travels gave them panoramic scope that often seemed limited by the folk idiom.
On Captain Swing, the freewheeling, happy sound of the first single, "On the Greener Side," makes perfect use of the new style that Shocked and producer Pete Anderson have developed. Likewise, the Elvis Presley-ish rock out, "(Don't You Mess Around With) My Little Sister," done acoustically on The Texas Campfire Tapes, is so much more exciting in its new form, the wide-open sound enhancing the wild lyrics: "I promised the folks / I wouldn't keep her out late / Because she's too young to party / Too young to date. / You take your hands off her, / Find yourself another, / Or you're gonna have to answer to / This Big Brother."
Shocked's lyrics are as tight and poetic as ever, even on mock-serious songs like "Looks Like Mona Lisa," which contemplates the personality behind the artist's image ("She's ripe with broken dreams, / Her lovers never stay, / It looks like Mona Lisa / Is having a bad day"). And the rich musical accompaniments always make sense (especially nice to hear is zydeco musician Zachary Richard's accordion on "The Cement Lament."
There is one deep flaw in Shocked's swinging new sound, though. She is terribly funny and clever — qualities that keep her from becoming a party-line washout like Tracy Chapman. But nothing on Captain Swing possesses the purity of "Anchorage" or "Memories of East Texas" (also from her last album). No song in the collection ever gets beyond Shocked's sharp wit. There is some soul and a lot of euphonic delight in Captain Swing, but where under all the instrumental grandeur is Michelle Shocked's heart?
Brooklyn's own They Might Be Giants are media darlings mainly because they are thought to possess three i's — intelligence, irony, and iconoclasm. After the Giants' second album, Lincoln (Bar/None), sold 250,000 copies (New York, February 6, 1989), they made the big leap to a major record company with their latest, Flood (Elektra).
The two Johns — Linnell and Flansburgh — who, along with a drum machine, are They Might Be Giants, have augmented their sound with a variety of other musicians and instruments, which makes Flood far more listenable than the first two albums. Even many of the Giants' big fans — mostly nerdy-cool intellectual young men like the band members themselves — would have to admit that the duo's songs were inconsistent.
Just the same, some of the songs that weren't wonderful to listen to were conceptually adorable — like "Youth Culture Killed My Dog" and "Alienation's for the Rich." They Might Be Giants seemed to be the necessary marginal voice of reason that told the ugly truth while the mainstream was busy sounding sincere and high-minded. But some of Flood suggests the band may have little more to offer than another running commentary on the absurdity of it all.
The album opens, after a corny (and sarcastic) introductory theme, with "Birdhouse in Your Soul," a song full of catchy vocal and instrumental effects and a chorus of sweet thoughts like "Not to put too fine a point on it / Say I'm the only bee in your bonnet / Make a little birdhouse in your soul." The album heads south from there. Linnell and Flansburgh seem to have retreated from the strides they made on Lincoln. On that album, they did fewer novelty songs and a lot more music that combined their loopy, good-time beat with a dark, despairing message. The creepy, alienated blues of "Lie Still, Little Bottle" and "Piece of Dirt" recalled an introspective Elvis Costello, while "They'll Need a Crane" revealed itself to be a sad love song masked by an up-tempo melody.
Flood makes no effort to explore that underside further. One of the album's typical songs, "Istanbul (Not Constantinople)" is mostly about how the names of cities change with the time ("Even old New York was once New Amsterdam") and sounds like a tune from a yet-unmade Broadway show about some ugly Americans and their wacky adventures in Turkey. The rest of Flood is awash in quick, quirky songs — some more cute than others — but none seem actually to be about much of anything, except how everyone wants to wear prosthetic foreheads on top of their real heads and other such nonsense. The one exception is "Your Racist Friend," which addresses a complicated topic — people who say that some of their best friends are black and then make off-the-cuff racial slurs — in a catchy, palatable song that might actually get people to think.
It's not that all music needs to be heavy and heaving with meaning, but in avoiding the challenges of Lincoln, They Might Be Giants are regressing. They still have occasional great lines — "Now it's over I'm dead and I haven't / Done anything that I want / Or, I'm still alive / And there's nothing I want to do" — but the Giants have failed to make an album that will matter to more than the select few who are in on the joke. Linnell and Flansburgh seem to be afraid that if they make another album with emotional depth, instead of being clever spinmeisters with attitude, they might become the cranky, bloated rock stars that their music implicitly mocks.
If all was right in the world and in the state of New Jersey, the Smithereens would be huge rock stars and Bon Jovi wouldn't. Their new album, 11 (Enigma/Capitol), which is actually the band's third LP, is by far their best yet. There's nothing so unusual about the Smithereen's music, but 11 is full of good, solid hard rock, loud and lean, with a halo of pretty harmonies (one supplied by Belinda Carlisle) that keeps the sound edgy but unabrasive. The Smithereens make music that uses the same simple chords and riffs played over and over again until they assault the listener's senses. Left in the hands of a less able band, a lot of the 11 material could sound like noise, but the Smithereens turn it into a very beautiful noise.
The album opens with the single "A Girl Like You," which kick-starts with a fuzz-tone guitar and keeps that hard sound throughout — perfect for the song's desperate, obsessive lyrics: "I'll say anything you want to hear / I'll see everything through / I'll do anything I have to do / Just to win the love of a girl like you." Many of the other songs on the album have this same longing tone, but the decibel level, along with the moodiness of lead singer Pat DiNizio's gentle voice, keeps 11 from being sentimental, even on ballads like "Blue Period" and "Kiss Your Tears Away." It's hard to imagine anyone, even people whose tastes run to the more mellow, not liking 11. The Smithereens are so tight, and the sequencing of the album's songs is so right, that 11 transcends genre.
World music is now so fashionable that trend analyst Faith Popcorn is advising her executive clients to tune in to Third World sounds for clues to the future. Just the same, the number of Americans who actually know Youssou N'Dour from Yahoo Serious is anyone's guess. But if there is one foreign-tongued band that everyone should know about, it's the Gipsy Kings, who are led by the two sons of flamenco singer Jose Reyes (the rest of the players are various cousins and brothers-in-law).
Though last year's Bamboleo (Elektra) was sung in French, Spanish, and Gypsy, the band's unusual, driving sound captured the public's imagination. The new album, Mosaique (Elektra), will not surprise and astonish, but the seductive sensuality and the power of the music remain as strong as ever. Though the songs might seem impenetrable to the average non-Gypsy speaker, something about the vocal chants, the howling in the background, the foot-stomping, the hand-clapping, the raspy, hoarse vocals and the exciting rambles of the guitar, played either at staccato speed or for a slow, sweet burn, suggests love, passion, wild emotions.
Mosaique opens gently and shifts moods throughout until it ends with the hot-wire crescendo of the dance song "Vamos a Bailar." Though the album's sounds are quite exotic, the language barrier actually lets listeners feel the music instead of thinking it — the band could make an intense, nonverbal connection with anybody. This might explain why the one song that doesn't work is the Gipsy Kings' rendition of "Volaré," which may suffer from too many previous lounge-lizard versions that will creep into most people's minds. The group made a similarly unfortunate choice with "My Way" on Bamboleo; maybe "Feelings" will turn up next. Whatever the band had in mind, the Gipsy Kings sound much better working with their native material.