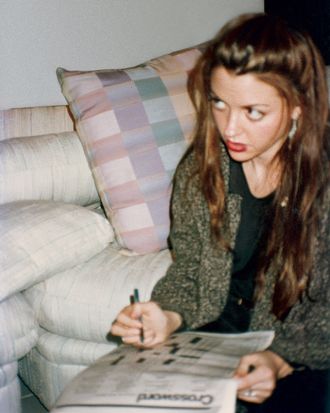 Elizabeth Wurtzel.
Photo: Courtesy of Elizabeth Wurtzel
When news broke on January 7 that author Elizabeth Wurtzel had died at the age of 52, obituaries noted her unsparing, confessional writing that helped usher in a then-revolutionary style. In 1994, when she was just 27, Wurtzel published Prozac Nation, her raw memoir that detailed her struggles with depression, which, to use Wurtzel's own words, "changed the way people see mental illness, and it changed the way publishers see memoirs."
"I was a hashtag before there was Twitter," she wrote in a personal essay for New York in 2013. Five years after Prozac Nation, she would publish Bitch, a collection of essays about vilified women; in 2001, she wrote candidly about her struggles with addiction in another memoir, More, Now, Again.
But before Wurtzel captured the country's attention with her memoirs and confessional essays, she cut her teeth writing cultural criticism at New York, where she briefly wrote the pop-music column "Sounds." In November 1989, she grooved to a Hawaiian band called Poi Dog Pondering, which sang peculiar lines about oatmeal, and Melissa Etheridge's sophomore album; months later, she was hooked on Sinéad O'Connor, who she described as a "rock-and-roll E.T."
In celebration of Wurtzel's storied career, we've compiled some of her best work for New York, from those early (newly digitized) pieces of criticism, to her more recent, personal essays about her "compromised" brain and breast-cancer diagnosis.
Published January 6, 2013
On being "born with a mind that is compromised by preternatural unhappiness," and learning to "live with intent."
Published December 26, 2018
On learning that she inherited the BRCA gene mutation — which puts you at a much higher risk of developing breast cancer — from her father, to whom she didn't know she was related.
Published April 9, 1990
On Sinéad O'Connor's I Do Not Want What I Haven't Got. (Yes, the album featuring her cover of "Nothing Compares 2 U" by Prince.)
Published November 13, 1989
On a Hawaiian band called Poi Dog Pondering, whose music features idiosyncratic lyrics like: "She says my work is like eating cold oatmeal/ Yesterday's oatmeal, day after day / And, she's right." Also, Melissa Etheridge and Linda Ronstadt.
Published May 14, 1990
On Madonna's rendition of Stephen Sondheim, a collaboration between former Velvet Underground members, and why she got hooked on MTV's Unplugged.
Published January 8, 1990
On Phil Collins, and which artists she thinks have "[combined] social concern and music with grace." (Featuring some lines that might rub some people today in the wrong way, such as, "And it's great that being politically correct and socially conscious is in vogue. But, well, enough already!")
Published November 12, 1990
On the New Bohemians, the Charlatans, and how Galaxie 500 took over the New York underground scene.
Published February 5, 1990
On Michelle Shocked, "media darlings" They Might Be Giants, and why if all was right in the world, the Smithereens would be bigger rock stars than Bon Jovi.