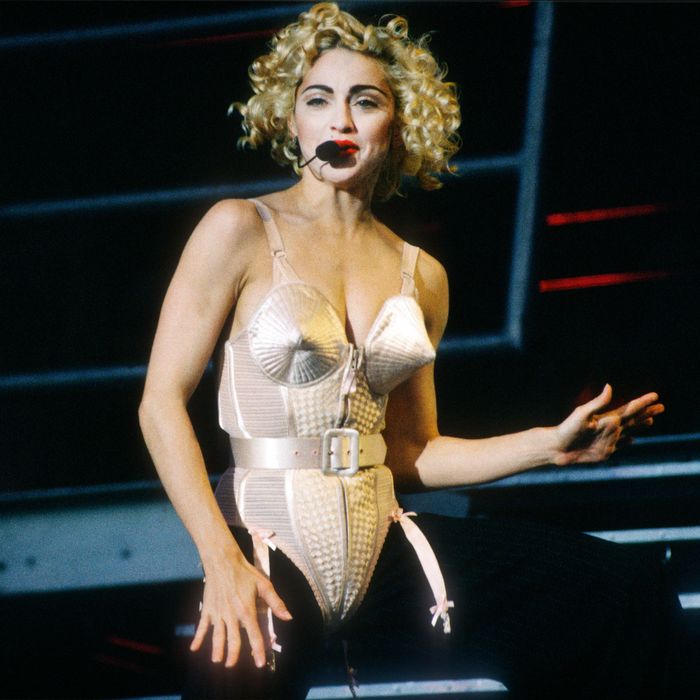 Photo: Gie Knaeps/Getty Images
This article originally appeared in the May 14, 1990 issue of New York Magazine. We're republishing it here as part of a retrospective of Elizabeth Wurtzel's work for the magazine.
What more could Madonna possibly do to shock us? How about singing Stephen Sondheim? I'm Breathless: Music From and Inspired by the Film Dick Tracy (Sire, in stores May 27) includes only three Sondheim tunes, but the album is infused with the theatrical sound of Madonna in her newest pose-glamorous chanteuse.
Breathless is not the soundtrack to Dick Tracy — the Warren Beaty movie that will be released on June 15 — but it is part of the publicity juggernaut and should get Madonna's fans hot and bothered about the film. As music, it is not completely successful. Madonna isn't much of a pure vocalists, and there are many singers who do much better with this type of material. But one given the twisted Madonna twist, Sonheim will never sound quite the same. With lines like "Got my diamond / Got my yacht / Got a guy I adore / I'm so happy with what I got / I want more," it sounds like the composer wrote "More" with the Material Girl in mind.
As far as kitsch value goes, Breathless is full of it. "I'm Going Bananas" is a Carmen Miranda-ish song done in a Spanish accent. And on the early dates of her Blond Ambition tour, Madonna has been known to follow "Hanky Panky" by saying, "You may not know the song, but you all know the pleasures of a good spanking." As the dramatic horns, sounding like background music from a mystery thriller, play, she sings, "Some girls they like candy/ And other like to grind/ I'll settle for the back of your hand / Somewhere on my behind." Later in the song she adds, "Please don't call the doctor / Because there's nothing wrong with me / I just like things a little rough / And you better not disagree." One can already hear the battered-women's advocates screaming at this one.
But that's  the secret of Madonna's success. She may be outrageous, she may be just plain tasteless, but her forms of subversive behavior still appeal to the mainstream. Because of her, underwear can be outerwear, and the exposed midriff fashions of her first tour are now more likely to be found in a mall than on St. Marks Place.
And Breathless is an album of old-fashioned songs that still have a raw, rock-and-roll edge to them — pleasing her hip fans even as she courts the musical establishment. Maybe Breathless will introduce Madonna to Sondheim's audience, but it's more likely that Madonna will being Sondheim to her audience.
After the sexy, sultry duet between Madonna and Prince on last year's "Love Song," it seemed unlikely that either of them would ever find such interesting singing partners again. But Prince has done some heavy breathing on disc with Kim Basinger, and now Madonna has persuaded Warren Beatty to sing with her on the song "Now I'm Following You," Surprisingly enough (given Ishtar), he can carry a tune.
The song works fine during the first section — with its lush string arrangements — but when the drum programs kick in during the second, it explodes, becoming the kind of dance song we've come to expect from Madonna. During the refrain, Madonna actually coos, "Dick. That's an interesting name. My bottom hurts just thinking about it" — obviously, the girl just can't help playing with innuendo.
The album's other duet, with Mandy Patinkin, is not quite as enjoyable, probably because it wasn't done in such a light-hearted spirit. Madonna holds her own against Patinkin's Broadway-trained voice, which is better suited than hers to a sweet Sondheim ballad like "What Can You Lose": however, she sounds like she's working hard to keep up.
There are some earnest, heartfelt songs on Breathless, and the torchy "Something to Remember" sounds like a mournful but mature attempt to come to terms with her marriage to Sean Penn ("We weren't meant to be / At least not in this lifetime"). But this is a far cry from a personal statement that Like a Prayer approached.
The album concludes with the hit single "Vogue," which is already an MTV sensation, although it's hard to say why. After all, "voguing" was at its height a couple of years ago, and Malcolm McLaren even released his "Deep in Vogue," albeit not to any great success, a while back. And though Madonna does chant a cute little rap in the middle of "Vogue," Deborah Harry was experimenting with white-girl hip-hop ten years ago.
Even the idea of a pop singer doing old standards has already been tried by Carly Simon and Linda Ronstadt. And on the subject of things that have been done to death, Warren Beatty had already been with so many Hollywood women before Madonna that it's hard to imagine why this affair has aroused such curiosity. But it has, and so will Breathless.
Its gossip value along could make Songs for 'Drella (Sire) an intriguing album. This collaboration between former Velvet Underground members–and current arch-rivals–Lou Reed and John Cale could have only been prompted by Andy Warhol's death. Warhol "produced" the Velvets' revered first album, designed the famous bright yellow banana on the cover, and even sent the bang on tour as part of his Exploding Plastic Inevitable performance group. But the usual Oedipal struggles between the mentor and his monster ensued, and by the time of his death, Warhol was not friendly with either Reed or Cale. And Reed and Cale hadn't been talking to each other either.
Fans who love the myth of Cale and Reed as rock and roll's Cain and Abel could be satisfied by the way the pair interacted when they performed 'Drella at Bam, which is to  say, they didn't interact at all. Cale's baby-grand piano and Reed's guitar were at opposite ends of the stage, and the two didn't chat between songs.
The album doesn't capture this tension but comes off rather as a true elegy to Warhol, one that is often deeply touching. 'Drella captures the mist distinct and pungent images of Warhol's life in just fifteen songs, and this short treatment is never superficial in the way that Warhol himself seemed to be. By the time Cale asks, in Warhol's voice, "Wouldn't it just be so funny/ If I died … and nobody called / And nobody came?," Andy's insecurities are not trivial but haunting.
Songs for 'Drella is not easy listening, though it's abundantly witty. As Reed says in the final song, "You Diaries are not a worthy epitaph," and it's a tribute to Reed and Cale that, despite their troubled relationship with Warhol and each other, they have made him a more sympathetic and thoughtful character posthumously than he ever appeared to be alive.
In brief: Among the reasons to watch MTV is the show Unplugged, which in recent weeks has showcased Don Henley, Lou Reed, and the Smithereens in acoustic sets. The show automatically separates out the dross, wince schlockmeisters like Milli Vanilli just can't go unplugged — in fact, as they proved at the Grammys, they can't even go untaped … Beats International is the brainchild of D.J. Norman Cook (formerly of the Housemartins), who spins and scratches to the accompaniments of more than 25 world musicians. Let Them Eat Bingo (Elektra) combines hip-hop, reggae, rap, punk, and even rebel-yelling to a dance-happy effect. Best of all is the club it "Dub Be Good to Me," which couples Lindy Layton's singing with a sampled bass from the Clash's "The Guns of Brixton."