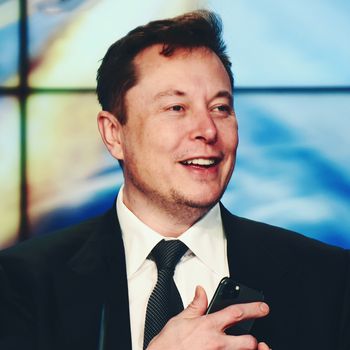 E "D" M.
Photo: Paul Hennessy/NurPhoto via Getty Images
Should billionaires exist, or is their existence a sign that something in our society is fundamentally broken? These are the questions I found myself mulling as I listened to "Don't Doubt ur Vibe," the new SoundCloud song from billionaire Tesla CEO and one half of Grusk, Elon Musk.
Yes, in addition to building breakable unbreakable CyberTrucks, and calling Thai cave rescuers "pedos," Musk occasionally moonlights as a SoundCloud DJ. Back in March 2019, you may recall, he dropped the song "RIP Harambe." If you didn't recall, well, I'm sorry.
Musk began hyping his new song on Twitter on Thursday night, changing his display name to "E 'D' M", and tweeting, "Just wrote a song called 'Don't doubt yer vibe.'" (The spelling at some point was changed to "Don't Doubt ur Vibe," though Musk doesn't say why.)
He added that he had written and performed all of the lyrics himself, and shared a picture of the artist in the studio:
The song, which sounds like something David Guetta would produce if he had been trapped in a sensory deprivation tank full of Mountain Dew Code Red for a month, urges listeners not to doubt their own vibe, "because it's true." A powerful message coming from someone who has clearly never once doubted his own vibe: that of a bright yellow Lamborghini filled with bees.
You can listen to the song here. Let it wash over you, and imagine what it would be like to drive a CyberTruck across the freezing, red surface of Mars, or to talk to Jeremy Piven for two minutes.
In conclusion, occasional self-doubt is good and healthy.