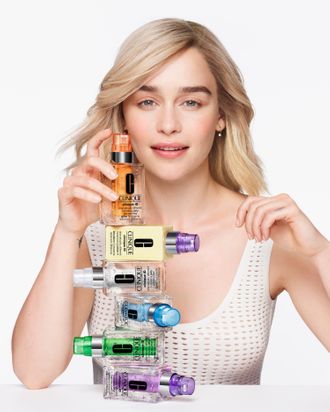 Emilia Clarke
Photo: Courtesy of Clinique
Daenerys Targaryen, Khaleesi, Mother of Dragons. There are many ways to ID Emilia Clarke, so it's only fitting that Clinique has chosen the British actress to be the new face of its Clinique iD skin-care line, the custom-blend hydration system that's tailored to your skin type and likes to ask you to #iDyourself.
If you're struggling to recall other Clinique ambassadors that have preceded Clarke, it's because they don't exist! Clarke will also be serving as the brand's first-ever celebrity ambassador in the brand's 50-year history.
"We didn't go with a model, we went with somebody with a human personality," Elizabeth Nolan, senior vice-president and global creative director of Clinique told WWD. "She's got such a human, emotional, real authenticity to her," she added, which is comforting to hear, given that we're living in the age of robot influencers. Clarke's relatability is already coming through loud and clear on Instagram, where she shared that she is all-caps "OVER THE RUDDY MOON" about the partnership.
After you ID yourself (Aries, human, dehydrated), head over to Clarke's Clinique page to hear her excellent pronunciation of the word innovative regarding Clinique's formulations, and check out the behind-the-scenes clip below to see what Clarke thinks about that British accent you probably just tried impersonating.