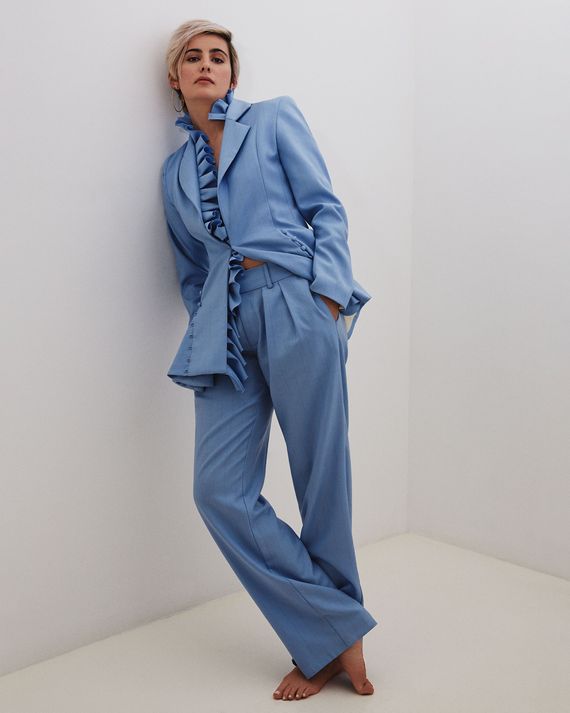 Marilyn Maggie
suit.
Vita Fede
earrings and rings.
Nouvel Heritage
ring.
Photo: Kat Slootsky
Much like Finley, the character she plays on The L Word: Generation Q, Jacqueline Toboni has the air of an inadvertent heartbreaker. She's too goofy to do it maliciously, but when I meet her, there's no mistaking which side of unrequited love she's spent more time on. Fresh off our photo shoot, she wears a slouchy, low-cut periwinkle suit sans shirt or bra, and not once does she check to see if she's exposed. She never is, and it doesn't seem like she'd care even if she was, and, in my experience, you don't arrive at that level of confidence after years of romantic rejection.
Toboni, 27, is one of several young actors who comprise the "Generation Q" in the L Word reboot's title, alongside Rosanny Zayas, Arienne Mandi, and Leo Sheng. Each, in their way, corrects a failure of the original franchise: Zayas and Mandi are Afro-Latinx and Latinx women playing Afro-Latinx and Latinx characters; the original twice employed Asian actresses to play Latinx. Sheng is trans, as is his character, Micah. Currently, Toboni serves as the show's butchest butch, which means that her armpit hair is plentiful, her legs are presumably unshaven, and she drinks her friends' almond milk straight from the carton. She is also, it seems fair to assume, a top, if not a particularly adept one.
"I definitely have more game [than Finley], but I'm way more scared," says Toboni. "Finley goes in with reckless abandon. I don't leave myself open to be rejected as much. I'll also play the long game. Not anymore — I'm taken."
With apologies to the baby gays now encountering The L Word for the first time, I can tell you that Toboni has a girlfriend with whom she shares a 70- pound rescue mutt named Finn. They don't technically live together, but they basically live together. She doesn't want to tell me how long they've been together, though U-Haul jokes are made, and she describes herself as "wifed up." Toboni says their daily life mainly consists of going to the dog park and playing backgammon: They keep a running tally of their games, and she is winning "by a lot."
Toboni has spent the last two years waiting — needing, she says — to be on The L Word. Like many queer women in their 20s and beyond, the original show meant a great deal to her. "The only out girl at my high school gave me a birthday present sophomore year, and I opened it up, and it was season one of The L Word," she says. "She was like, 'Just until you figure it out.' I was dying inside." Toboni came out to her parents a couple years after college, and now identifies as "queer, lesbian, gay, I don't care, bi." But for a long time, like so many others, The L Word was something she snuck.
When she found out she got the part of Finley, Toboni messaged that girl from high school. "I was like, 'Hey, I think this is all due to you. Thank you so much.' She was like, 'I can't believe I did that.'"
Toboni is the youngest of five children born to an Italian-American father and Irish-American mother, was raised in San Francisco, and graduated from Catholic prep school in 2010. In college, she played volleyball and basketball, though she was cut from the latter, an event which she credits for her turn toward acting. Also in college, she belonged to the Delta Delta Delta sorority, which had a type she insists she didn't fit: tall, blonde, hot. I ask if she hooked up with any of her sisters, because that is my fantasy of what I'd have done if I were out and in a sorority in college. She says no, but she did hook up with the musical-theater girls. Then she offers me her fist, and I bump it.
If each of the show's young women cast members figure as a sort of mini-me to the original's returning trio, Finley, on paper, aligns with Shane, who becomes her landlord-roommate: Both are androgynous and troubled, sexy fuckups with shaggy hair. In performance, though, Toboni hews more closely to Leisha Hailey's Alice: funny, blunt, sensitive, nosy. "Every single day on set with [Hailey] is a blessing," says Toboni. "She's a comedic genius. She's so precise. I really admire her."
Toboni says her earliest acting aspiration was SNL, and while her career took a turn for the dramatic, in shows like Easy and Grimm, her comedic timing often steals scenes in an otherwise very earnest reboot. Finley has traits that, in other hands, might feel cringey (the tendency to substitute the word "fudging" for "fucking," for instance), but Toboni makes Finley's cheese charming.
"She's a 'scumbra,'" says Toboni, referring to a feminized version of 'scumbro,' or a scummy/grungy variation on normcore. With her graphic T-shirts, crop tops, jean shorts, and bleached crop cut, Finley looks like a 30 percent cleaner, and 60 percent more cheerful, Kristen Stewart. Toboni describes her own style as similar, if less colorful. Her beauty routine is unsurprisingly low maintenance: Pond's cold cream. "My ancestors have used it for generations, as do I," she says.
Another familial inheritance: Toboni's Catholicism, which informs her character's loaded relationship to organized religion on the show. While the specific source of Finley's pain hasn't been revealed yet, it isn't hard to imagine why a queer person might feel uncomfortable in church. Though Toboni attends church with her family on holidays, and still considers it a place to self-reflect, she's hesitant to call herself religious. "It's hard to identify as Catholic when my views from the institution are so polar opposite, but I love the community, and I like my priest," Toboni says. "I do not like my archbishop, who is super-conservative and an asshole. His name's Father Cordileone." She pauses and laughs. "Print it. I don't care. I'll take down the Catholic Church."
First, though, there are movies to make, narrative podcasts to record, her dog to play with, and — hopefully — a season two of The L Word: Generation Q to film. And if it doesn't come back, and this one-season reboot is all there is? "How much would that suck?" she laughs.