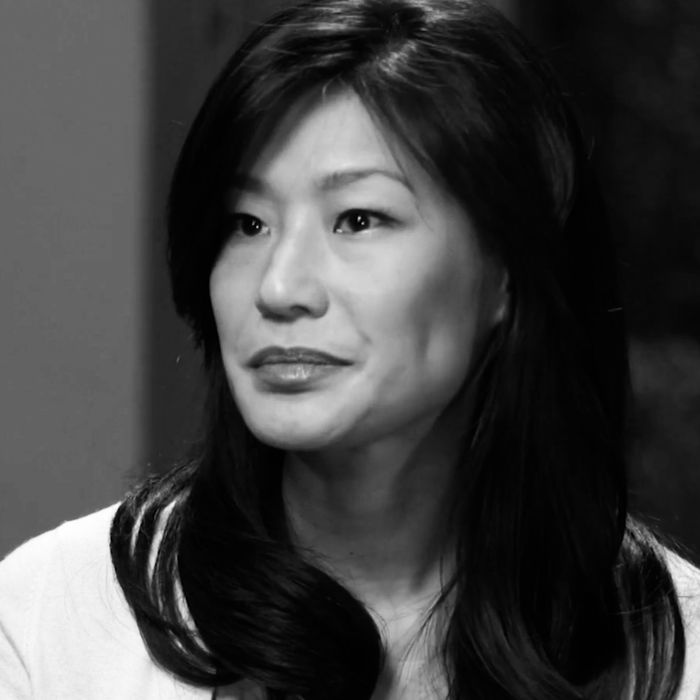 In an interview with CNN that aired on Thursday, Evelyn Yang, wife of Democratic presidential candidate Andrew Yang, said that while she was pregnant with their first child in 2012, she was sexually assaulted by her OB/GYN at Columbia University, Dr. Robert Hadden.
Yang is one of dozens of patients the doctor allegedly assaulted. Now, she and 31 other women are suing Columbia University, its affiliates, and Hadden for allegedly concealing and enabling Hadden's misconduct for decades.
Yang told CNN that when she first started seeing Hadden, a respected obstetrician-gynecologist at Columbia, in early 2012, things seemed fine. But then, Hadden started asking inappropriate, medically unnecessary questions about her sexual relationship with her husband. Although his questions made her uncomfortable, the idea of changing doctors was overwhelming for Yang. "What I kept sticking to was this: 'Okay, so my doctor is pervy. I have a pervy doctor, but I'm going to focus on having a healthy baby.'"
Then, during a routine examination when she was seven months pregnant, Hadden said something about Yang possibly needing a C-section, pulled her to him, undressed her, and digitally penetrated her, ungloved. Yang said she knew that she was being assaulted, but that she couldn't move.
"I just kind of froze like a deer in headlights, just frozen. I knew it was happening. I could feel it," she said. "I remember trying to fix my eyes on a spot on the wall and just trying to avoid seeing his face as he was assaulting me, just waiting for it to be over."
Although Yang stopped going to Hadden after that, she didn't tell anyone about her assault until she got a letter in the mail months later, informing her that Hadden had left his practice. After reading the letter, she googled his name, and found a report about another woman who had accused him of assaulting her. The news prompted Yang to tell her husband what had happened.
Yang eventually joined an open case the Manhattan District Attorney's office had against Hadden, and found that at least 17 other patients had made claims against the doctor. While a grand jury indicted Hadden on multiple felony sex charges, in 2016, the District Attorney's office reached a plea deal with Hadden, in which he pleaded guilty to only two of the nine charges against him: one count of forcible touching and another count of third-degree sexual abuse. Hadden lost his medical license, but did not go to jail.
(The Manhattan District Attorney's office, CNN notes, is headed by Cy Vance, the same attorney who has been criticized for failing to prosecute Harvey Weinstein for a misdemeanor sex crime in 2015, and for asking a judge to reduce billionaire pedophile Jeffrey Epstein's sex offender status in 2011.)
The plea deal did not feel like justice, Yang said. "It's like getting slapped in the face and punched in the gut. The DA's office is meant to protect us, is meant to serve justice, and there was no justice here."
Columbia University is challenging the new suit against them on procedural grounds. A university spokesperson told CNN that they, "deeply apologize to those whose trust was violated." Hadden, meanwhile, denies the allegations against him, except for the two he pleaded guilty to in his 2016 plea deal.
For years, Yang fought to remain anonymous in the legal actions against Hadden. But now, she says, being on the campaign trail has made her realize the impact her voice can have on others. "I feel like it's something that's an obligation but also a privilege and a gift that I get to share my story now and also help other women."
Following the interview, Andrew Yang tweeted, "I love my wife very very much."