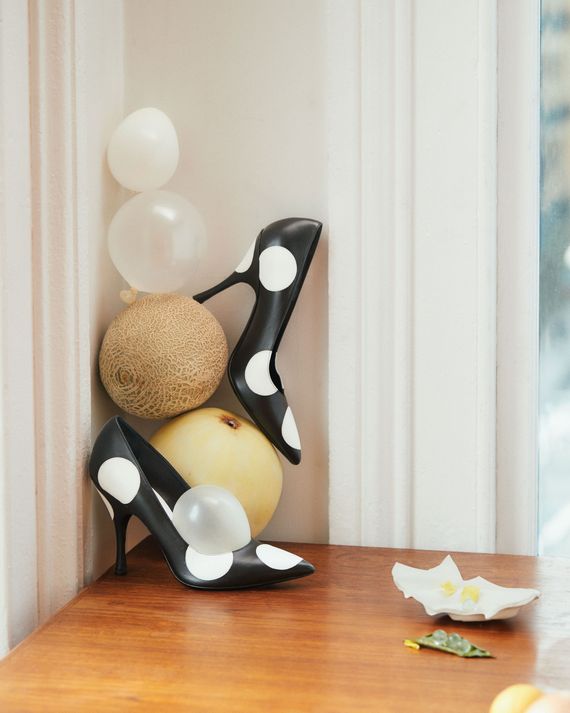 Photo: Ester Grass Vergara
Patriotic fashion is a tough line to walk at the moment. Most designers don't want to look too MAGA. Michael Kors, an architect of American sportswear, is undeterred and season after season gives us a new spin on Americana. For Michael Kors Collection spring 2020, it was a '40s-inspired red, white, blue, and khaki collection, with polka dots for festivity and sweaters with the word "hate" crossed off for politics.
Kors chose the '40s because he felt it was the last time the country was united, at the height of World War II. "The world was in upheaval, and Americans rolled up their sleeves and got to work," Kors told Vogue. Still, this is fashion, so you can't expect him to show truly pragmatic footwear. The majority of the shoes in the collection are brogues, boat shoes, espadrilles, and strappy sandals — shoes that you'd wear on a weekend, not necessarily in a factory.
These polka-dot pumps certainly are not for doing work in. Instead, the print recalls lighthearted American icons past: Frank Sinatra's "Polka Dots and Moon Beams," Minnie Mouse, and Lucille Ball. People who make you smile, laugh, and breathe a little bit easier. They're a kind of measured cheerfulness — not a sparkly pump that screams "I'm going to be on this dance floor all night," but a gentler resolve to bring in levity wherever possible.
Michael Kors Collection black/white polka dot Intarsia calf Evangeline pump, $650, available at select Michael Kors stores.