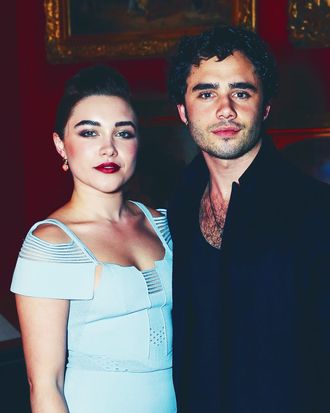 Photo: David M Benett/WireImage
With all the press Oscar-nominated Little Women actress Florence Pugh has been getting this awards season, the public has suddenly learned a lot about her. Like that she used to moonlight as distinctively not embarrassing acoustic guitar teen Flossie Rose, and is currently dating Zach Braff. Oh, and she has an adorable 27-year-old brother with two first names who's been coming up in her profiles and appearing with her on the red carpet.
His name is Toby Sebastian. He looks like this:
But the world yearns to know more. So, without further ado, here's your guide to Florence Pugh's hot brother:
He's musically inclined
Like Florence, Sebastian also plays guitar and sings prettily.
He's a songwriter as well.
And now it's all happening. Sebastian announced across his social media platforms on Wednesday that he'll perform his single "Train to Mexico" live on BBC Oxford radio this Saturday.
You might also know him from Game of Thrones
Turns out, Sebastian is also a Dornish prince. On seasons five and six of Game of Thrones he played Trystane Martell, the eldest son of the rulers of Dorne, a pleasurable Southern kingdom whose inhabitants leave their shirts mostly unbuttoned and fuck with abandon. Martell is engaged for a time to Myrcella Baratheon, but like all things that come to pass on that show, it ends badly.
He's a supportive brother to Florence
The siblings are all over each other's Instagram, promoting one another's concerts and premieres. Most recently Sebastian posted on the occasion of Pugh's Oscar nomination: "You have worked your arse off and you've been exquisite in every single one of your performances. Proud doesn't cover it. Congratulations fatso, I love you."
Good at sitting
Like Laura Dern, this guy knows how to sit.
Thank you, everyone, for coming on this journey with me. And thank you, Toby, for the bountiful Instagram content.