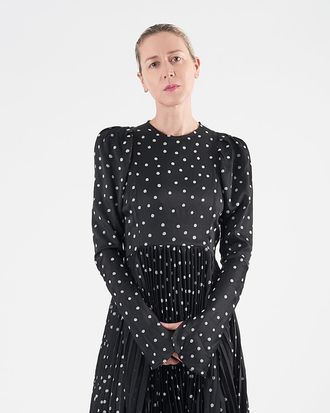 Kristen Cole
Photo: Katy Shayne
You know those people who always seem to know what designers or trends are about to blow up? Kristen Cole is one of those people, professionally. Cole is president and chief creative officer of Forty Five Ten, a boutique from Dallas that's made its way to Aspen, Hudson Yards, and Napa Valley. Business of Fashion asked recently if it could be Barneys for millennials. Similar to Barneys, what sets it apart is its edit of emerging and luxury designers. Think brands like Rachel Comey, Comme des Garçons, Susan Alexandra, and Molly Goddard — brands that have profited off being at least a little weird.
Cole's personal style reflects that, and she's just as into art as she is into clothing. Forty Five Ten has collaborated with artists like Katherine Bernhardt, Katie Stout, and Lars Fisk, and Cole herself has a vast personal art collection that includes Bernhardt's neon paintings and a giant inflatable sculpture of electric cord and plug. We spoke with her about her favorite candles, her dream client, and her personal taste.
How do you thank someone for a gift? A handwritten note on my embossed Forty Five Ten note cards.
What would you never wear? Cargo pants.
What's your dream vacation? A week at Esalen Institute in Big Sur.
What's a good book on your coffee table right now? John Graham's System and Dialectics of Art — it's out of print, and I finally found one for my husband.
Last show you binge-watched? Schitt's Creek. Moira Rose is my dream client.
Secret to hosting a good party? Have a drink before your guests arrive, white sage and palo santo for the space. And of course, good music.
What is a trend that you like right now? Sustainability.
One you don't understand? Postapocalyptic style. I look to fashion to be inspired. This trend feels too real.
Favorite restaurant in New York? Via Carota.
Shoes you wear most often? Prada platform derbies.
What's your favorite …
Pajamas? Washed silk sets from Lunya.
Candle? Our Boy Smells x 4510SIX, which is bright and fruity, but really I burn Tennen incense the most.
Scent? Byredo Super Cedar and Comme des Garçons 2.
Socks? Darner.
T-shirt? Vintage.
What are three photos that define your style?
This is me as Patsy [Stone] for Halloween in my office, because Absolutely Fabulous is my favorite show ever (my dear friend and assistant went as Eddy).
I love quirky combos and animal prints. The picture is at our Y/Project buying appointment in Paris. I'm wearing Sandy Liang, Molly Goddard, and an Area choker. I wear a lot of emerging and like an eclectic mix.
In my Sies Marjan pants, Marc Jacobs Runway tux blouse, and Junya Watanabe coat — I love a statement coat. This one is reversible, so twice the value.
What's your favorite place in your studio, office, or home?
My bookshelf. I have three bookcases at home in Dallas, stacks of books in our New York apartment (West Village), and many stacks in my office. Books (novels, poetry, biographies, art, history, design) inform me daily and are my most regular indulgence outside of fashion.
Shop the Story
Photo: Courtesy the vendor
Photo: Courtesy the vendor
If you buy something through our links, New York may earn an affiliate commission.