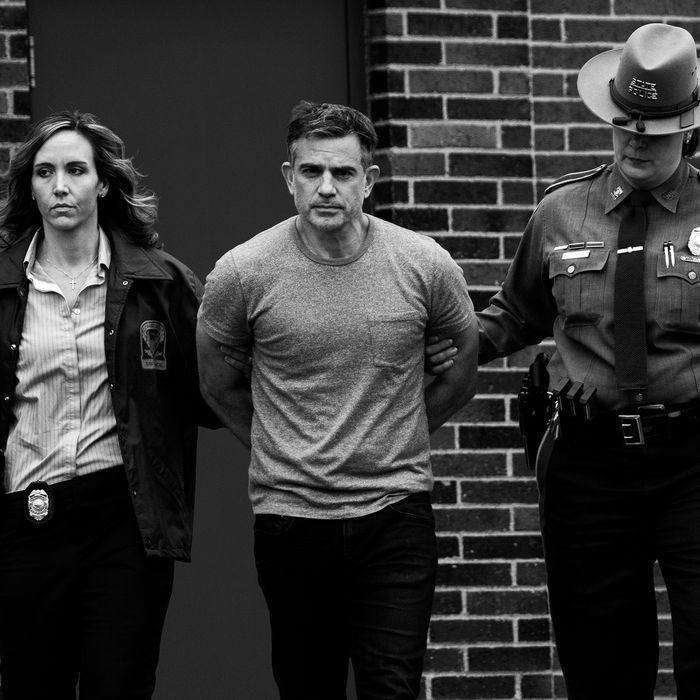 Fotis Dulos has been accused of killing his estranged wife, Jennifer Dulos.
Photo: Kassi Jackson/TNS via Getty Images
When Jennifer Dulos of New Canaan, Connecticut, mysteriously vanished last May, authorities ran into difficulty pinning down their main suspect. While investigators focused on her estranged husband, Fotis Dulos, they struggled to charge him in connection with her kidnapping and suspected murder, as law enforcement hadn't — and still has not — found Jennifer's remains. Earlier this month, officials finally accumulated enough evidence to charge Dulos with murder, capital murder, and kidnapping. But on Tuesday, the case took a shocking twist: Dulos attempted suicide, and was taken to a New York City hospital in critical condition. His status remained "dire" on Wednesday, according to CNN, and on Thursday, he was declared dead.
Norm Pattis, Dulos's attorney, told reporters that his client's family had flown in from Greece, and planned to fight to "clear his name."
"As we are speaking we have filed an unusual motion in the Connecticut courts asking to substitute an estate for Fotis Dulos for him as a defendant to force the state to show its hand in a trial filled with evidence we think that amounts to no more than innuendo and unsupported suspicion," Pattis said, according to NBC.
On Tuesday morning, police went to Dulos's home in Farmington after he failed to show up for an emergency bond hearing, where they found him unresponsive in a running car parked in his garage, according to the New York Times. Although initial reports indicated that Dulos had died from a suicide attempt, he was actually placed on life support at Jacobi Medical Center in the Bronx, according to the Connecticut Post.
Dulos was first thrust into national spotlight in May 2019, following the suspicious disappearance of his estranged wife. According to investigators, Jennifer suffered a "serious physical assault" after dropping her five children off at school on May 24, and has not been seen since. Immediately following her disappearance, evidence — DNA and video footage — directed investigators' attention toward Fotis and his girlfriend at the time, Michelle Troconis, both of whom were charged with evidence tampering and hindering the prosecution. (Dulos repeatedly denied the allegations against him.)
It wasn't until January 7, though, that Connecticut State Police took Fotis Dulos into custody, where he was charged with capital murder, murder, and kidnapping. His bond was set at $6 million. However, on Wednesday, despite Dulos's hospitalization, New Jersey reportedly filed an official motion to revoke his bond. On Wednesday, police were back at Dulos's home as part of an ongoing investigation.
This post has been updated.