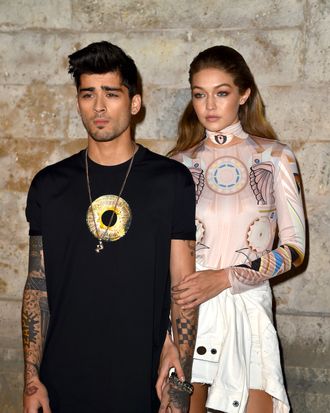 A couple??
Photo: Pascal Le Segretain/Getty Images
Much to think about: Gigi Hadid and Zayn Malik — two very pretty people who have sometimes dated and sometimes not — were spotted walking together in New York City on Friday night. Further, the supermodel had her arm linked through Zayn's. (Intimate.) And: Her sister, fellow supermodel Bella Hadid; and her brother, whom you may know as Dua Lipa's boyfriend; and her mother were reportedly on hand as well. Also! They were apparently celebrating the former One Direction member's 27th birthday in a private room at an Italian restaurant called il Buco.
Me personally? I do not think you would opt into a party with your ex's whole family, unless that person was not actually your ex but your current partner. Consider these photos: What do you think is going on here?
According to E! News, what's going on here is a rekindled relationship. "Gigi and Zayn got back together right before the holidays in December," a source told the outlet. "Zayn has been reaching out to Gigi for the last month and she is giving him another chance."
"She has always loved him and the break between the two was needed," the source added. "Zayn has been working on his past music and focusing on his health and is in a really good place currently."
Zigi has weathered a number of ruptures — Us Weekly counts three, but honestly it's hard to keep up — since first becoming a unit in 2015. We know they officially broke up in March 2018, because they both posted effusive statements to social media confirming the split. But then, just three months later, Gigi muddied the waters by sharing photos of her and Zayn canoodling. Whatever was happening there reportedly came to an end in January 2019, and Gigi struck up a whirlwind romance with the Bachelorette's Tyler Cameron over the summer, going so far as to bring him to her grandmother's funeral after about a month of dating.
But that ended, too, and fans got really fired up about a reconciliation with Zayn in December. The model posted about making his mom's chicken salad, tagging said mom in the process and thereby fueling dating rumors. And now these two crazy kids are, possibly, back together! Congrats to the happy maybe-couple.