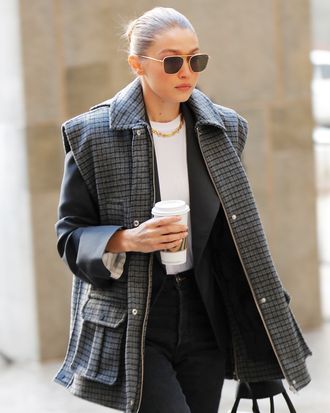 Photo: Seth Wenig/AP/Shutterstock
Gigi Hadid was officially dismissed as a potential juror in Harvey Weinstein's rape and sexual assault-trial today. She showed up to jury selection yesterday with around 200 people, and was dismissed along with 62 others today.
The model got through the first round of selection earlier this week, telling the court that while she had met Weinstein before — as well as one of the trial's potential witnesses and Weinstein accuser, actress Salma Hayek — she was still capable of keeping "an open mind on the facts."
But yesterday, Weinstein's attorney, Arthur Aidala, called out Hadid's ability to be impartial in an 87-page motion that also requested the judge shift the location of the trail to upstate New York or Long Island, in order to avoid what the defense described as a "carnival-like atmosphere."
The motion also argued against Hadid's inclusion as a juror, noting that she is a friend of Cara Delevingne, who is one of the over 100 women who have publicly accused the former producer of sexual misconduct. Delevingne alleged in a 2017 Instagram post that Weinstein forcibly tried to kiss her after asking her have sex with another woman in front of him. She said he had also made disparaging comments about her sexuality.
Jury selection is ongoing for the New York trial, with three men and two women officially selected on Thursday. Weinstein is charged with two counts of sexual assault, two counts of rape, and one count of criminal sex act.