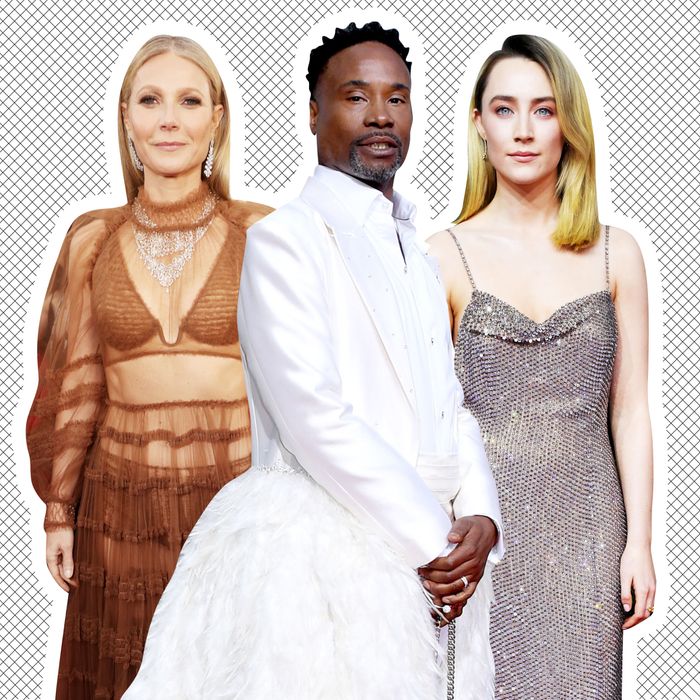 Celebrities, to their credit, took some big swings on the Golden Globes 2020 red carpet. Some swings resulted in home runs, others sent the ball flying into a suburban Free People store. Okay — enough with the sports metaphors. The largest trend, both literally and figuratively, was dramatic sleeves, a look worn by everyone from Jodie Comer to Cate Blanchett. It has usurped the big pink dress trend of last year's Academy Awards and the pink-and-red trend of the 2019 Emmy Awards.
Read on for the best, worst, and most remarkable looks from the event, including J. Lo's bow, Kerry Washington's boob suit, and the look that cost $5 million.
Most Arty: Joey King
King's red-carpet style is generally pretty safe. To the Emmys in 2018 and 2019, she chose sweeping dresses in solid colors. But an Iris Van Herpen dress is a 180 from that look. Enter Iris Van Herpen, a Dutch designer known for her futuristic clothes, including Gwendolyn Christie's fire dress. Van Herpen rewrites the rules of fashion that favor princess-y red carpet dresses. King, in turn, looks all grown up.
Best Dramatic Entrance: Billy Porter, As Always
The day Billy Porter arrives on the red carpet in a plain black tuxedo is the day we should give up on red carpets entirely. Thankfully, we're not there yet. Porter arrived relatively early to the Golden Globes, and forced everyone awake with a long, feathered, white train. This is Hollywood, baby, and Porter knows how to dress like it.
Most Expensive Outfit (Probably): Cynthia Erivo
This is an example of how an Old Hollywood silhouette can feel modern. This beaded black-and-white dress took the team at Thom Browne 800 hours to make, and come complete with peonies on the inside that are only visible through the leg slit. Erivo estimated that she was wearing $5 million worth of jewelry — the sapphire and diamond Bulgari necklace alone is $3 million.
Most Glamorous: Ana de Armas
A classic dress, revved up by tons of inky blue sequins. Ana de Armas, the star of Knives Out, looked glamorous and sparkly with this custom Ralph & Russo dress, plus Tiffany jewelry and a red lip.
Best Corset: Lulu Wang
Now this is how you make a black suit feel new! The Farewell director Lulu Wang wore a sheer top and corset along with lightly embellished pants by Thom Browne. The look wasn't an immediate show-stopper, but it was chic and unexpected.
Biggest Surprise: Wesley Snipes
This isn't the first time Wesley Snipes has shown up on the red carpet in an unexpected suit (see this banana-yellow one from 2008) but it is still a surprise to see him in a maroon shirt with a pink ruffled top. Yes, there is a Dumb & Dumber quality to it, but I don't hate it.
Best Boob Suit: Phoebe Waller-Bridge
Waller-Bridge knows how to wear a deep-V jumpsuit, so maybe it's not a surprise that she's just as capable of embracing the boob suit — a jacket, trousers, and absolutely no blouse. Here, she offers a take on the trend that's actually sort of wearable.
Most Disappointing: Jennifer Lopez
Was there anyone whose red-carpet outfits have been more highly anticipated this season than Jennifer Lopez's? This dress is the spiritual opposite of the Versace dress she revived this year. The gold and green bows look like they were left over from Christmas. Whomp.
Best Homage to Party Girls Past: Saoirse Ronan
Saoirse Ronan generally keeps it pretty clean on the red carpet with tasteful, crisp dresses. This one is appropriately unfussy but a little more fun, with a whiff of the oft-copied chainmail dress that Paris Hilton wore for her 21st birthday. Saoirse's version, though, is more grown-up and doesn't give off the same "let's dance on tables at Lavo" vibe, even though it does have a fabulous dose of side boob. Love it.
Best Excuse for a Top: Kerry Washington
Another creatively booby look! Fantastic. Washington wore her boob suit with a jeweled harness and jewelry from Marli New York. It's a level up from Timmy's bejeweled harness — sorry, embroidered bib — from last year's Globes.
Best Free People Maxi Dress: Gwyneth Paltrow
If you've ever been a teen begging your mom to buy you a completely sheer maxi dress at the mall, you know the brand Free People. Of course, this dress is not actually from there, and Gwyneth is not a mall teen, which she reminded us by wearing not one but two Bulgari necklaces.
Biggest Winner Overall: Sleeves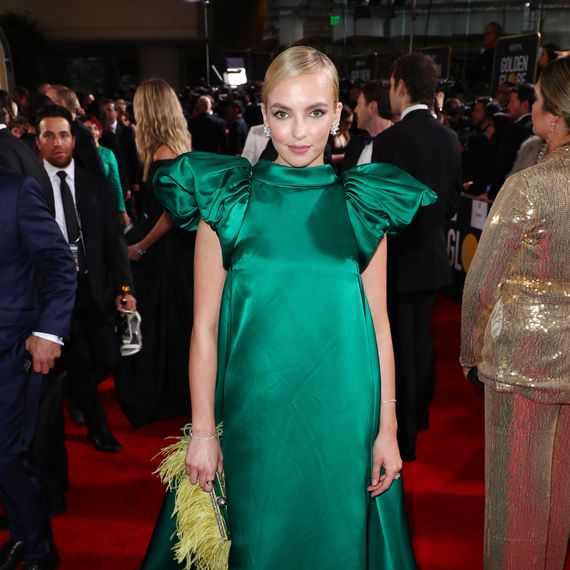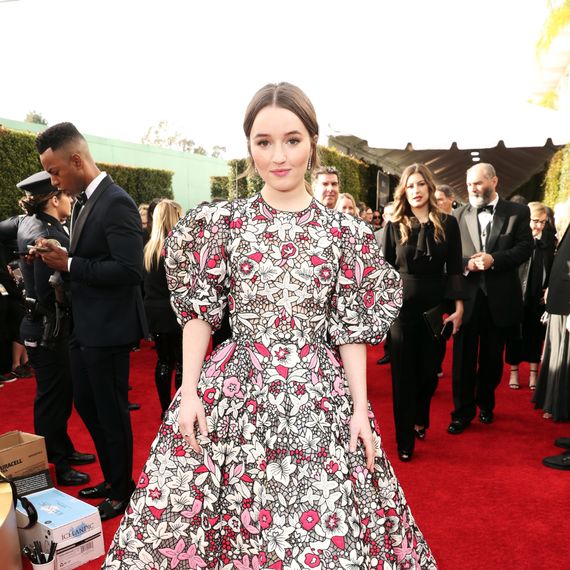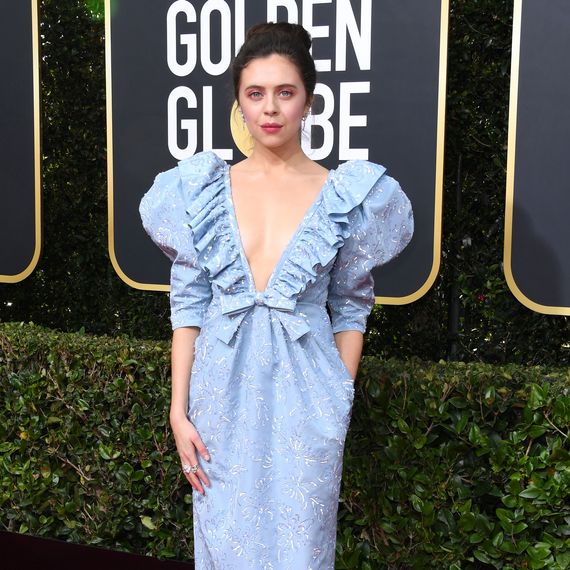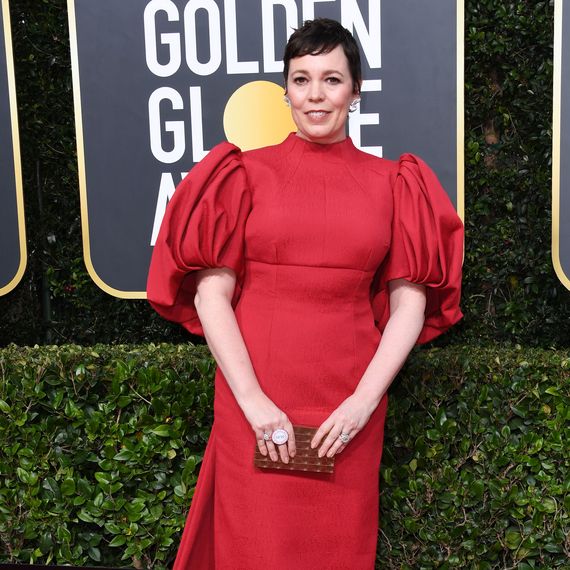 No movie, TV show, or actor will clean up at the Golden Globes the way giant sleeves did. All of these dramatic dresses are begging to be noticed and debated. Not all of them are good, but together they are a powerful red-carpet force.
Most "Hello, Cousin Greg": Nicholas Braun
Worst Asymmetry: Kristin Cavallari
There's a "homemade prom dress" feel about this.
Best Asymmetry: Gillian Anderson
The half-cape is even more stunning from behind, complemented by a diamond necklace sweeping down Anderson's back.
Best Jumpsuit: Zoey Deutch
A voluminous jumpsuit — courtesy of Fendi — in an eye-catching color is a good red-carpet outfit to begin with. Note the giant sleeves; very on trend. But the bright blue jewelry takes it to a new level through delightfully juxtaposing colors.
Best Tribute to Princess Leia: Rooney Mara
The way I see it, if you have the opportunity to wear a large headpiece, you wear a large headpiece. Glad to see Rooney Mara seizing that opportunity. All together, the look is halfway between John Singer Sargent's Madame X and Princess Leia.