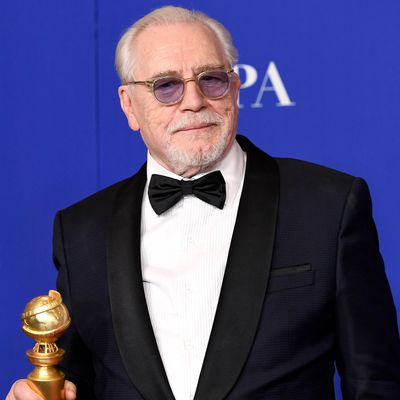 Photo: KEVORK DJANSEZIAN/NBCU Photo Bank via Getty Images
There were a few major red-carpet trends at tonight's Golden Globes: the usual trains and sequins were upended by big sleeves, lots of boobs, and plenty of gray hair. But this year's hottest and most surprising accessory inside the show? Transition lenses.
A large swath of the over-50 crowd at the 77th Golden Globes chose to pair tinted sunglasses with their formal wear. Who can say how this trend came to be? Perhaps it's for practical reasons, a shield against the L.A. sun; maybe Brian Cox, Bong Joon Ho, and Tony Shalhoub planned it all in a group chat. Or, it's possible that all of the colored lenses in the audience were there in quiet protest of the fact that Uncut Gems — in which Adam Sandler sports a pair of excellent tinted glasses — wasn't nominated for any Globes this year.
Some indoor eyewear highlights included Elton John, who of course showed up in his signature rose-tinted sunglasses. The singer was joined by Kathy Bates, who wore an enormous cat-eyed pair, and Tim Allen, who went with a teashade set he refused to take off the entire evening. Likewise, Eddie Murphy and Patricia Arquette wore their own transition lenses all night long, with Arquette's blue-tinted pair joining her for her acceptance speech.
However the trend came to be, I hope it's here to stay. Scroll down for a tour through all of the best transition lenses at the 2020 Golden Globes: