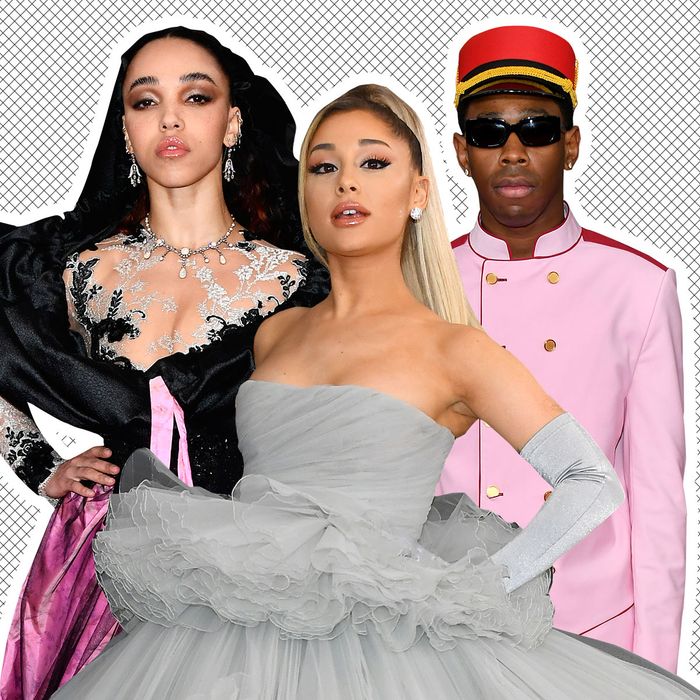 FKA Twigs, Ariana Grande, and Tyler, the Creator.
Photo: Getty Images
At award shows like the Oscars, the Emmys, and even the Golden Globes, the red carpet tends to be a sea of grand dresses. Those can be glorious in their own right, but they get monotonous after a while. So thank the yeehaw gods for the Grammys, which are often a fun red carpet but were even more fun tonight than most. Yes, Ariana Grande did wear a tulle ballgown (she looked great) but everyone else brought out their most unlikely gear: face masks and cowboy hats and giant pink suitcases, patterned suits and pearls and one water bottle nestled in a Chanel purse. Scroll down for our list of the best, worst, and most over-the-top looks from the 2020 Grammy Awards.
Best Automated Hat: Billy Porter
Yes, yes, another Billy Porter mention on the best-dressed page. This time, instead of riding in on a litter carried by bare-chested men or wearing the curtain from his hit play, he channeled musicians like Sia and Orville Peck with a face-obscuring hat. When it was time to reveal his face to the camera, the fringe parted automatically. What a performance.
Most On-Brand Outfit: Billie Eilish
Billie Eilish has a set look. We expect her to wear something oversize in neon green and black. What's impressive is how many permutations of this outfit she manages to find. This Gucci ensemble is especially nice because of the fingertip-less gloves which show off her manicure, and the bejeweled face mask.
Best Harness: Lil Nas X
In the spirit of Timothée Chalamet and, more importantly, Donatella Versace, Lil Nas X adorned a pink suit with a neon-pink Versace harness. Lil Nas X has worn several variations of the neon-colored, edgy Nudie suit, but the harness is so fun, who are we to complain?
Best Theater Kid: Ben Platt
Look, all I'm saying is that this is exactly how the guy who was obsessed with Sondheim in eighth grade would dress given the chance to go to the Grammys. Platt is also probably that guy!
Best Neck Accoutrements: Diplo and Orville Peck
The men of the Grammys were really competing for the best cowboy hat. Diplo and Orville Peck may not have won that race, but they did have the best ties — Peck's was a true bolo tie, while Diplo's had a turquoise pin. They're definitely … going for it.
Best Ballgown: Ariana Grande
There had to be one big dress, right? There always is. But Grande's is interesting because it's a rather somber shade of gray. The effect is arresting and also a little melancholy. She posed sitting into her dress, letting the cloud poof up around her while she pressed her gloves to her face.
Most Likely to Be Waiting for Her Husband to Return From the War: FKA twigs
This hood, the color scheme, and the lace all read period piece. The leg slit, not so much.
Best Patterned Suit: Brandi Carlile
It was tough competition out there for people wearing suits, but Brandi Carlile's brocade suit was the best one with a pattern. In keeping with the unofficial country theme of the night, she wore Western-ish booties with the suit, and a shirt with a wide, '70s collar.
Most Wes Anderson: Tyler, the Creator
Red carpets are all really performance art, aren't they? Tyler, the Creator's Grand Budapest Hotel get-up is just leaning into it. It's also definitely going to be memed.
Best Glam: Lizzo
Lizzo is nominated for the most Grammy awards of anyone tonight — eight in total. It's her night. She dressed the part in an old Hollywood-inspired white dress and matching fur stole.
Highest Tax Bracket: BTS
The K-pop group might not look like they're heading to a red carpet, but they do look rich. All of them are wearing neutral Bottega Veneta outfits, and seven of them are in turtlenecks.
Best Pearl Accent: Shawn Mendes
We've seen some good jewelry tonight, but I'm partial to Shawn Mendes's chain with a little baroque pearl on the end. Very dapper. Very Harry Styles.
Most Talked-About Accessory: Maggie Rogers
Maggie Rogers looked fabulous in her Chanel dress, but what was most discussed was the water bottle (I think a Klean Kanteen) in her purse. It feels a little gimmicky — VSCO girl comparisons swiftly followed — but Rogers does seem like the kind of person to carry a water bottle everywhere, so, proceed.
Best Suiting Surprise: John Legend
Compared to the other suits on the red carpet, the right side of John Legend's suit really is nothing special. But the left, with the long pleated skirt, is. Legend often favors pastel suits on the red carpet, but this is a nice new twist.
Most Satisfying '90s Nostalgia: Dua Lipa
America needs a new girl band to worship. But in the meantime, Dua Lipa is giving '90s girl-band vibes with blue eyeshadow, a bare midriff, and a creative half-up, half-down hairstyle.