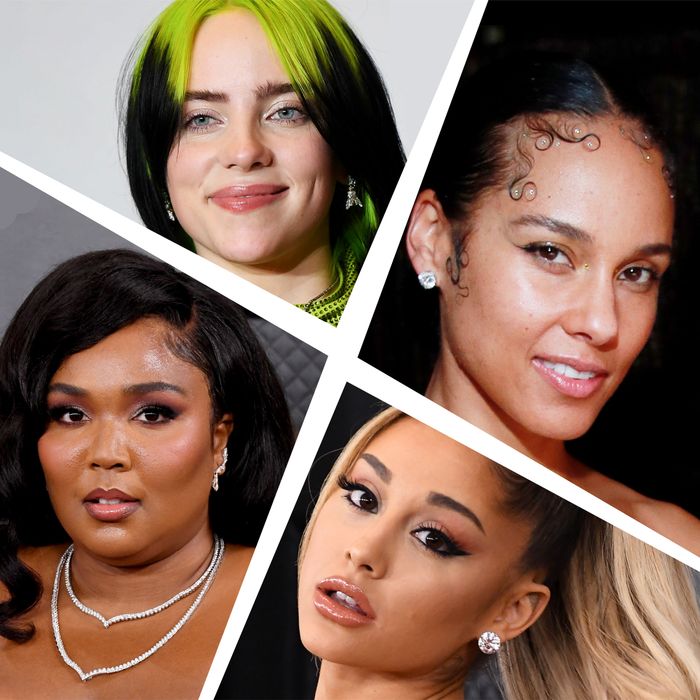 Last night's Grammys red carpet did not disappoint. Now that we've had ample time to digest all the fun outfits from the cowboys, bellhops, and cool teens we blast through our headphones all day, let's zoom in on the makeup looks and hairstyles that pulled all those looks together. From bushy brows and supersharp manicures to the world's most recognizable ponytail, here are some of our favorite looks from music's biggest night.
Most Consistent
We all had a hunch Ariana Grande would bring her signature ponytail as her plus-one, but somehow, seeing it all dressed up for the billionth time still gave us butterflies. The ponytail is looking brighter, bouncier, and more on-trend than ever, with a blonde wash paired with dark roots, a flirty extroverted flip, and one strategic face-framing tendril for accessorizing.
Best Bowl Cuts
Pulling off a singular bowl cut is tricky enough, but BTS collectively managed to pull off seven. More impressively, each bowl cut had its own unique personality — there was the stylish side-part, the bold man bangs, the edgy borderline mullet, the care-free floppy look, and so on.
Best Baby Hairs
As host, Alicia Keys was doing a lot in a multitude of outfits, but our eyes were consistently fixed on her baby hairs every time she showed up onscreen. The serene swirls were the perfect frame for no-makeup makeup looks, especially when they were decorated with sparkly rhinestones. An excellent case for sticking things around your hair instead of directly in it this year.
Best Sharp Objects
Lizzo's classic Hollywood-beauty look — soft waves, big lashes, and a pinky-nude lip — channeled Cher and Diana Ross. But her nails were modern: filed to sharp points and decorated with dangling No. 8s, a reference to her eight Grammy nominations.
Most Shades of Green
Billie Eilish, in case you haven't noticed, loves the color green. Last night she matched slime-green roots to her green-inflected Gucci look. Even her nails were rectangular green talons decorated with the Gucci logo. They looked great clutching her multiple awards.
Simply the Best, Overall
Right above her full brows and nicely dewy forehead, H.E.R.'s baby hairs gently waved hello. And her soft coral lip also coordinated with her '70s orange sunglasses. Well done!
Best Full Brows
Somewhere, Brooke Shields is giving an approving nod since there were tons of full, bushy, real eyebrows last night. Groomed, combed, brushed, and perhaps aided by a few flicks of pencil or powder to fill in the bare spots, the brows on FKA Twigs, Dua Lipa, Ali Tamposi, and H.E.R. illustrated that the feathered Instagram brow might finally be easing its way out.
Best Blues
The man considers makeup part of his ensemble, and that alone deserves respect, whether you're a fan of his silver-lined blue eye shadow or that remote-controlled hat-fringe curtain. Why not experiment more?
Best Surprise
Where was that glossy red lip always equated with Gwen Stefani? The red was replaced with a nice, beigey pink, her brows looked naturally groomed, and her skin glowed. A moment for her hair: center-parted and tucked behind her ears, Stefani looked youthful without trying to look like she did when No Doubt first burst onto the scene.