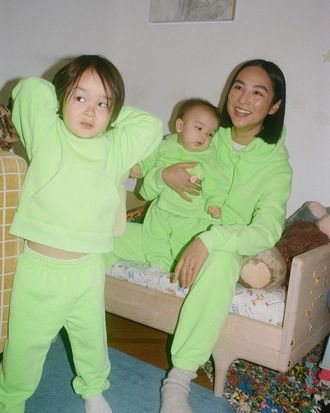 The sweatsuit trend has been given the Greta Lee stamp of approval. The actress posted a photo series on Instagram yesterday in which she is wholeheartedly embracing the comfortable aesthetic, one that suggests "frequent flier miles, lots of time in Los Angeles, and not having a corporate overlord," as my colleague, Emilia Petrarca, described it.
In the photos, Lee is wearing coordinated hot pink and neon green sweatsuits from Sandy Liang's collaboration with the children's clothing brand Two Bridges. Also featured in the photo shoot are her sweet little babies, and now I'm like, should I get pregnant?
Honestly, I don't have baby fever, I'm not even baby curious, really, but Greta Lee's kids are an exception. And this campaign, with the little Lee babies and their little tummies and scruffy hair and designer sweatsuits is an assault on even my baby-neutral senses. Perhaps it's Sandy Liang's excellent design sensibilities, or just Greta's adorable offspring, but I think I want to rip out my IUD.
Unfortunately, that's not going to happen anytime soon. In the meantime, though, I might just make do with the coordinated separates, which go for around $250 per item on Sandy Liang's website.