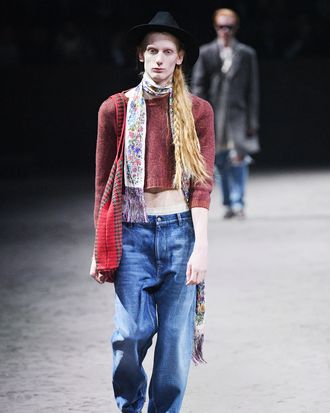 Photo: Daniele Venturelli/Getty Images
Last winter, the Cut reported that the countdown to low-rise jeans had begun. Denim trend forecaster Sam Trotman told writer Sarah Spellings that he expected low-rise jeans to be a "key trend" for 2020. So we held our breath and waited … and waited … and waited some more. Now it's 2020, and it seems the time has finally come: Low-rise jeans are here.
By "here" I mean on the Gucci Fall 2020 runway. Designer Alessandro Michele showed his new men's collection at the Palazzo Delle Scintille on Tuesday night. Called "Masculine, Plural," it explored the ever-broadening image of manhood by reimagining different forms of "masculine" dress, from boyhood Catholic school uniforms to adult suits and ties. "A dominant, winning, oppressive masculinity model is imposed on babies at birth," read the show notes. "Therefore, it seems necessary to suggest a desertion, away from patriarchal plans and uniforms."
A large pendulum swung back and forth in the middle of the runway, drawing a literal line in the sand beneath it. It was all curiously well-timed to this year's upcoming Met Gala, the theme of which is time itself. Anyway, in addition to grungy low-rise jeans (not to be confused with early-2000s low-rise jeans), Michele also made throwback references to Gucci collections past, like the furry slippers which were one of his early commercial hits.
"I haven't got any nostalgia," he told Vogue backstage. "I don't cling to the past… I use the past because the past is a very interesting space."
Okay, so maybe Michele doesn't feel any nostalgia for Paris Hilton's low-rise True Religion jeans, and is more interested in putting a traditionally feminine, provocative cut on a man. But the runway also featured '90s-style sagging jeans and low-slung trousers, alongside higher-waisted versions. Will we be seeing low-rise jeans on the subway soon? Only time will tell.