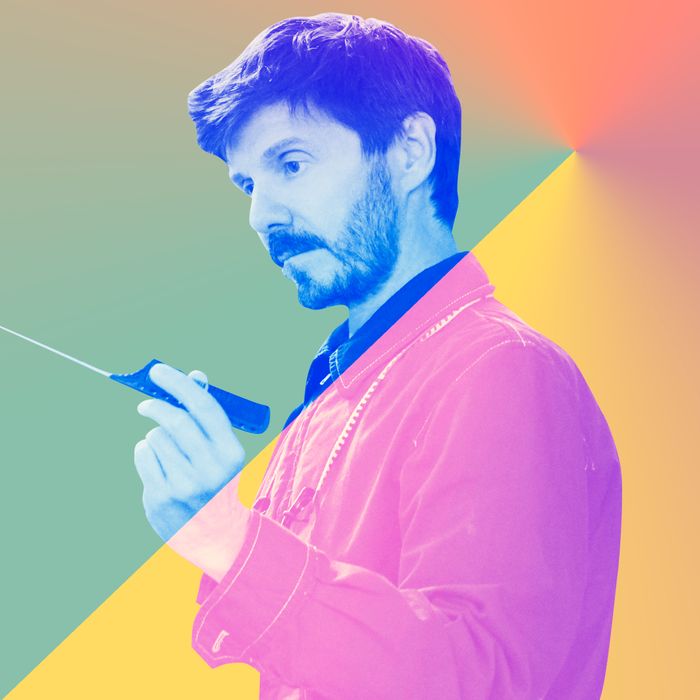 Photo: Courtesy of Redken
Of all the hair looks that 2019 will be remembered for, Step Bangs are probably the most notable. There was nothing expected or obvious about wearing too-long, blunt-cut bangs along the sides of the face. We can thank Guido Palau for that. Sort of.
"I first did it back in the '90s, and I called it an asymmetric step," recalls Palau, who "stepped" the models at the Givenchy and Prada shows last September. "The idea was to keep the length, then create a step that looked like a 1920s bob. It was kind of like what Cher had in the '60s, and she might have referenced it from Louise Brooks. People still reference it, but it's not new. Nothing's new."
That's not to say his creations are ever recycled. Take the cartoonishly oversize bouffants he built atop a few of the models at Valentino's Couture show in 2018.
"I had no idea it would cause such a storm, but it was a confluence of several things: right girl, right designer, right gown, right time," says Palau, who is also creative director for Redken Global. "There was all this reality in life going on that everyone had to deal with, then suddenly this girl comes out with ten-inch-high hair and everyone was like, 'What is that?' What I loved about that moment is it confirmed that people do want that fantasy. They're never going to have that gown, they're never going to have that hair, but women and men like to dream. And that's the reason I got into fashion. Seeing fantastical things that had nothing to do with my own life."
Palau grew up on the south coast of England and describes his childhood self as the one least likely in his family to do anything. He left school and traveled through Europe, mulling his future over when he met a hairdresser.
"I thought, 'Oh, I could do that,' so I moved to London and got a job at Sassoon." They fired him two years later ("They told me I was no good, and that is still locked in my mind to this day."), so he found work at another salon, and that's where a co-worker let him tag along on a shoot. Cue the sound of the heavens opening.
"I walked in, saw the models and the photographer and thought, This is me," he remembers. "London was an exciting place in the early 1980s. Punk had just finished, street style moved in. I learned on the job and eventually started working with my idols, like David Simms."
Helmut Lang tapped him for his first runway show, and Calvin Klein brought him to New York. "And then the whole Kate Moss thing happened," he smiles. (Palau was responsible for her game-changing grunge hair looks.) "Then I met Donatella, who introduced me to Avedon, then I met Meisel."
Decades later, Palau is still the guy who Pierpaolo, Miuccia and Victoria hire to coif their shows. He chalks it up to hard work and butterflies.
"I'm still nervous when I go on a job. I never walk in thinking I got this. I'm never sure if I'm going to get it right, but I know I'm hitting it when whatever I'm creating makes me a bit nervous."
Paulo spoke with the Cut about the merits of Birkenstocks, the importance of wellness, and the gel that kept his punk-era hair in place.
What is your definition of beauty?
Individuality. Personal confidence always make someone feel beautiful.
Please fill in the blank as it pertains to something connected to your wellness routine: I think about ______ a lot.
Happiness.
What is your morning grooming routine?
Mouthwash, brush my teeth, shower, moisturize.
What's the last product you use every night?
Toothpaste.
Who cuts your hair?
My first assistant, Sandy. She's been cutting it for years.
Favorite spa:
The Ranch Malibu.
Fragrance of choice:
Aveda Chakra 2 Vaporizing Mist.
Razor of choice?
Gillette.
Bath or shower:
Shower, with Kiehl's Shower Gel.
What was your first grooming product obsession?
The British chain Boots had a gel called Country Born. It was emerald green and had a strong smell but it helped me achieve my night punk looks on myself.
Daily carry-all of choice:
Comme Des Garçons backpack.
Who makes your eyeglass frames?
Cutler and Gross.
How do you like your bed? Sheets and a blanket.
What do you splurge on?
Mid-century ceramics.
What is your daily uniform?
I switch between Comme Des Garçons, J.Crew, and Ralph Lauren. Casual, kind of American. My style would probably be called "American/hippy."
What shoe are you usually wearing?
Birkenstocks.
What do you own too many of?
Sweaters.
What are the first three things you do when you get home from work?
Give my cat a hug, light candles, and turn on the TV.
When you check into a hotel room, what's the first thing you do?
Lie on the bed.
What is you personal definition of glee?
Riding a bike on a sunny day down a country lane.
What would the name of your autobiography be?
Pass Me a Pin.
Who would star as you in the film adaptation?
Ansel Elgort.
Favorite smell?
A mix of sun tan lotion and salty sea water.
Least favorite smell?
Boiled vegetables.
What can't you leave alone?
Hair.
What calms you?
My cat and Rescue Remedy.
Comfort food:
Baked beans on toast.
Vice snack:
Haribo Gummy Bears.
Most impressive dish you make:
Vegetable couscous.
What do you foresee as the top beauty and wellness trends of 2020?
Celebrating individualism, and the unique texture of your hair. I also think it's about eating well, exercising both body and mind. The biggest luxury in life is health and we should really try to maintain it as well as possible.
What product in your arsenal is misunderstood and should be a best seller?
My favorite and go-to product, especially at work, is hairspray, but I always feel that hairspray is difficult for women to digest. Redken's Triple Pure 32 has a neutral smell and a great hold. I would recommend it to all women and men.
What product is currently your favorite? (understanding that this could change all of the time)
Redken Wind Blown 05. It's really great at texturizing hair, and it is foolproof — you can't really go wrong with it. Use just at the roots for volume or all through for a blast of touchable volume.
If you won The Power Ball tomorrow, what are the first five things you would do? (After, of course, donating the majority of it to your top five charities.)
I would travel more, build a house on the coast of New Zealand, make sure my family and friends are taken care of, take a cooking class in Tuscany and spend more time trying to better my pottery skills.