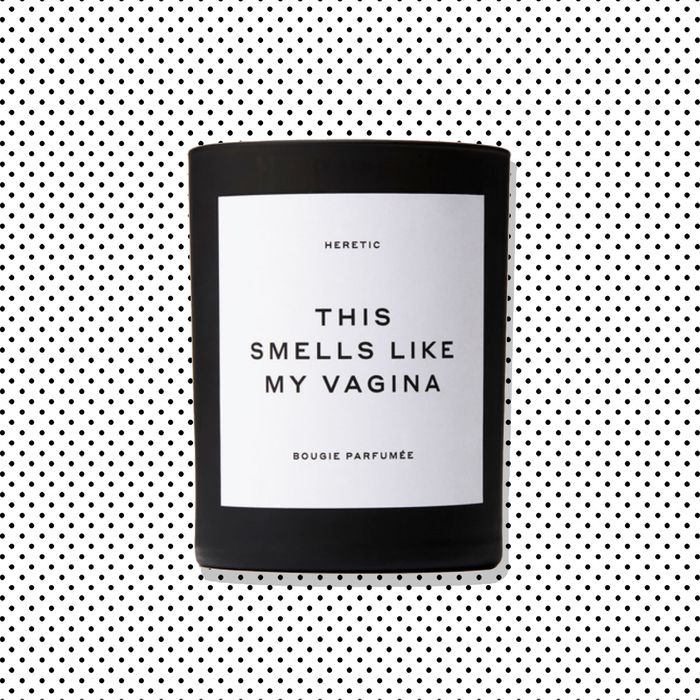 Photo: Courtesy of the vendor
Right now at Goop, you can buy a candle called Orchard or Church, or you can buy one called "This Smells Like My Vagina."
Given that Goop has encouraged the public to consider vaginal steaming and sticking rocks up there, maybe lighting a vagina on fire isn't that outlandish. According Goop lore, the idea came straight from Gwyneth Paltrow herself. It all started as "a joke" between Paltrow and Heretic perfumer Douglas Little, with whom she frequently collaborates on her own scents. The two were sampling potential fragrances when Paltrow suddenly blurted out, "Uhhh … this smells like a vagina." (Remember that time she yelled "VAGINA! VAGINA! VAGINA!" to a roomful of HBS students? Okay!)
But Gwyneth has high standards, so they kept working on it until it had "evolved into a funny, gorgeous, sexy, and beautifully unexpected scent." The Goop copy calls it "perfect as a candle" — because what's better than inviting guests into your home, having them compliment you on the lovely scent, and then humbly saying, "Thanks, it's this new vagina candle I picked up"?
The candle costs $75, and Goop says it sold out within hours at one of the company's events (it does match the other branding). High-end, wellness-y Brooklyn beauty shop Shen also carries the candle, but it's currently sold out on its site.
But does it really smell like what it says it smells like? Here's what several Cut members thought.
Allison P. Davis, features writer: "This smells like a vagina that is douching Summer's Eve too frequently and will probably end up with a yeast infection. And it needs some muskier base notes, to be honest."
Bridget Read, writer: "No vagina on God's green earth."
Kathleen Hou, beauty director: "Maybe if you asked a bunch of teen boys who had never been near a vagina, they'd say, 'Yeah, like this!'"
Erica Smith, beauty writer: "… I don't think so? It's definitely not an aspirational vagina smell. I'd be concerned if it smelled like that."
Sarah Spellings, fashion writer: "It smells like a vagina if you've only ever been exposed to the concept through tampon commercials. This is very much a conceptual vag."
Madeleine Aggeler, senior writer: "No. Needs more umami."
If you buy something through our links, New York may earn an affiliate commission.