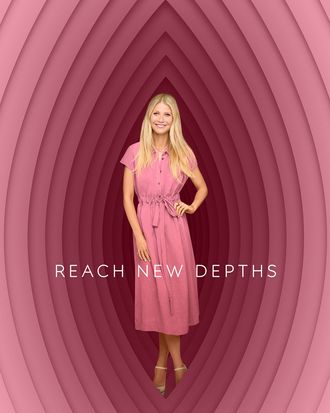 Georgia O'Keeffe-inspired.
Photo: Netflix
Gwyneth Paltrow could've gone a few different ways with the poster for The Goop Lab, her forthcoming "boundary-pushing" Netflix series about the myriad of topics that fall under the ever-expanding wellness umbrella. She could've used a serene photo of someone "healing" their "energy," a collage of psychedelics and supplements intended to help you undergo some sort of rebirth, or even a simple portrait of herself that says, clearly, my controversial lifestyle tips, many of which are based on dubious science, are working for me. But instead, she went with an image that's quite, uh, evocative: a full-body photo of herself, Photoshopped in the middle of a pink vortex, with the text "reach new depths."
It's certainly an interesting choice of imagery, given that Paltrow's tips pertaining to gynecology have landed her in hot water in the past. Most memorably, in September 2018, Paltrow's company, Goop Inc., had to pay $145,000 in civil penalties for selling jade eggs to put inside your vagina, which the company deceptively marketed as being "scientifically proven to empower you and help you have better sex." However, Paltrow has also drawn the ire of gynecologists for other related health claims, such as her suggestion that steaming your vagina will lead to "an energetic release" and "balance female hormone levels" (it won't).
Perhaps Paltrow is deeply inspired by Georgia O'Keeffe. Or, maybe this image is an attempt to demonstrate some self-awareness about the medical community's concerns. According to Netflix, the show will focus on psychedelics, cold therapy, female pleasure, anti-aging, energy healing, and psychics. In the trailer, released today alongside the image, Paltrow and Goop employees acknowledge that some of the topics they'll explore are "out there or too scary," perhaps in an attempt to get ahead of potential criticism.
I guess we'll just have to wait for the series' debut on January 24 to see exactly which "new depths" Paltrow has decided to probe.