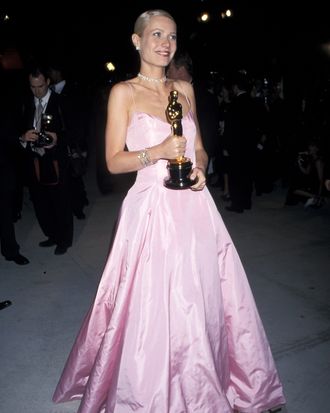 Gwyneth Paltrow
Photo: Jim Smeal/Ron Galella Collection via Getty
Sometimes it can feel a bit like Gwyneth Paltrow is unfamiliar with her own filmography: She famously forgot she was in Spider-Man, doesn't recognize her Avengers co-stars, and was only in The Politician because the show's producer, her husband, begged her to be.
It's true that today, perhaps Paltrow is more famous for coffee enemas and vaginal steaming than for being an Oscar-winning movie star. And this blasé attitude toward her critically acclaimed body of work seems to extend to her offspring: In an interview today with Harper's Bazaar, Paltrow noted that her teenage children have yet to see any of her films (the notable exception is Iron Man, which Paltrow probably hasn't seen herself).
Perhaps it's because she has the same aversion to watching herself onscreen as Adam Driver, who has said that it makes him want to throw up; likewise, Paltrow told the magazine that seeing herself act makes her want to "vom" and "gag." With this in mind, perhaps Apple and Moses Martin have been deprived of seeing their mother's work because Shakespeare in Love is strictly off-limits in Paltrow's household.
Hopefully, they will have a chance to visit it at some point in their lives, as Paltrow seems to have no intention to act in anything soon. She told the magazine that she would never go back to acting — "literally never — nev-er." If anything, maybe they'll be able to catch mom on The Goop Lab, which premieres on Netflix later this month and is reportedly about things like psychedelics and orgasms.