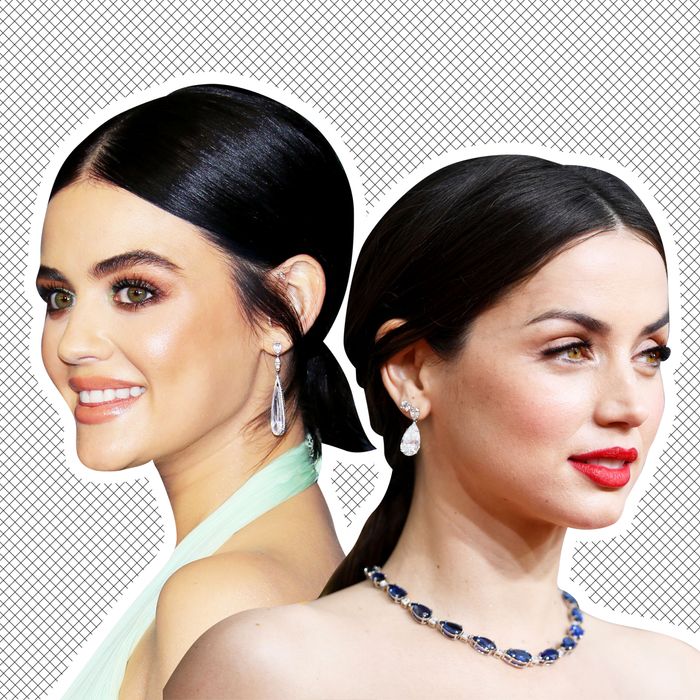 Lucy Hale and Ana de Armas in ear hairstyles.
Photo: Getty Images
When was the last time you thought about your ears? Whilst dressing them in some delicious earrings? Probing them with a Q-tip even though you're 100 percent not supposed to? While reading the word "ears" in the opening line a few seconds ago? When it comes to doing your hair, ears usually don't enter the chat until the very end, when it's time to decide to tuck or not to tuck a down-do, or once an ill-fated strand gets caught on the back of a stud.
It's still early in the year, but it seems like celebrities are starting to campaign for ears as the new hair accessory of awards season. It's quite the departure from the usual body parts that get to shine during such events: necks (updos), scalps (deep side parts), the middle of the face (face-framing tendrils), and one of our personal favorites, the forehead (any type of bangs).
Sure, strategically placed chunks of hair around the ear look slightly unnerving and give you the urge to scratch your own, but it's a highly versatile look, and more cost effective than buying another hair accessory. Want to draw attention away from your ear for whatever reason? Use your hair to cover most of them up! Want your ears to look flirtier? Use your hair to fashion them a coy little pocket to peek out of! The possibilities may not be endless, but there are at least a solid five from the first two weeks of 2020 alone.
The Swim Cap
Completely cover up the hearing part of your ears and let those decorative lobes shine.
The Peek-a-Boo Cut-Out
If you want to show some (ear) skin and highlight that sexy, upper cartilage area at the same time.
The Cropped Ear Curtain
This ear-level tendril is an easy way to add some decorative flair. It works best if you have shorter, bob-length hair and deprive your face of face-framing tendrils.
The More Dramatic Ear Drape
Though similar to ear curtains, longer, ear-level tendrils have more of a romantic, ethereal vibe, just like the word "drapes."
The Full Window Treatment
This combo look works best with layers. Experiment with longer ear drapes in the front and slightly shorter ear curtains in the back. Sparkly earrings help, too.