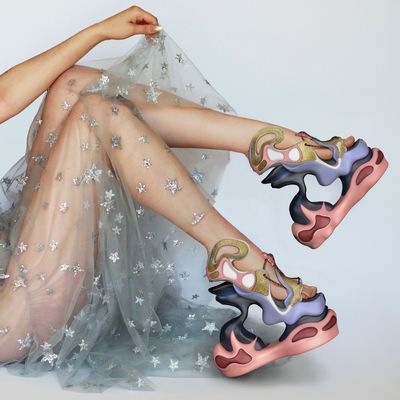 Happy99's 3D heels on a real-life model.
Photo: Courtesy of HAPPY99
Sometimes it's not that hard to imagine the technology of the future (realistic sex robots don't require that much explanation), but how do you begin to describe a fashion brand that exists almost entirely online, as a form of augmented reality? Ten years ago, that idea would have seemed bizarre. But now plenty of people are using face filters on Instagram and following fashion influencers who don't exist off the platform; even big luxury brands like Dior are getting in on the action. In an era of digital exploration, Happy99 has been quietly leading the way for clothing that can only be found on social media.
Artists Nathalie Nguyen and Dominic Lopez started their brand out of creative thirst and necessity. Their original plan was to make physical shoes, but they discovered that manufacturing shoes would be a lot more difficult and expensive than they expected, with molds for each shoe costing around $2,000. "We didn't want to let this stop us from designing shoes so we decided to use 3-D programs to actualize our ideas," Nguyen told the Cut. After they posted just two designs on Instagram, they started getting emails from stylists for celebrities like Grimes and Lady Gaga, seeking to collaborate.
Feeling validated, the duo decided to extend their product range to clothing and produce a full-blown 3-D runway presentation. Although a few virtual runway projects had existed before, none featured clothes that were designed exclusively for the digital world.
"Our other issue was that a lot of what we were seeing was being made around prefabricated, hypersexualized, female 3-D models," said Nguyen. They wanted something that would be a better reflection of their friends and their style. With the help of Stephen A. Mayer and Radimir Koch, they were able to create an entire virtual world set in an environment that may look familiar to anyone who's spent time under the Manhattan Bridge in Chinatown. Along with their now-signature big, chunky shoes, the show included baggy pants and bucket hats. (It turns out the future looks a lot like the 1990s.)
Although the runway existed purely on a URL, its release party marked the first time that one of Happy99's shoe designs came to fruition IRL. Another friend and collaborator created patterns and constructed the uppers, and the two created the soles. (They're not for sale, though Nguyen say she's interested in seeing how the art world would price them.)
At the moment, the artists have ventured into physical tote bags, hoodies, T-shirts, and plush dolls, and they have big plans for the new year. "We plan on another virtual runway for September 2020 and continued research into new processes for manufacturing small runs of our shoes," Nguyen said. So don't be surprised when you catch a streetwear peacock bopping around Lower Manhattan in a pair of Happy99 kicks.