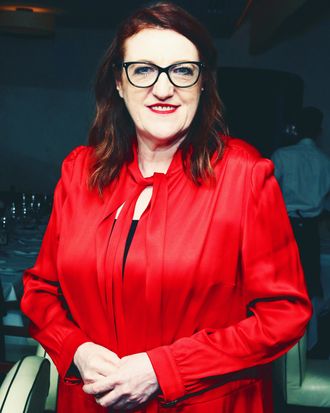 Photo: Astrid Stawiarz/Getty Images
On Wednesday morning, news broke that Harper's Bazaar editor-in-chief Glenda Bailey will step down from her role after a whopping 19 years.
Effective March 1, Bailey will become a global consultant for the magazine's 29 editions. She will continue to work on an exhibition about the magazine that opens at Les Arts Décoratifs in Paris on February 28 during Paris Fashion Week. According to WWD, she will also "help identify" her successor in the U.S., as a replacement has not yet been named.
"I've wanted Bazaar to be a party that everyone is invited to, and I thank my incredibly talented team for helping me do just that," Bailey said in a statement. "Fashion and beauty are my career and my hobby — there's nothing that inspires me more. With the exhibition opening during Paris Fashion Week, the timing is perfect for a new adventure. I'm looking forward to working with brands to find creative solutions and with our global editors, to learn about their audiences and devise ways to surprise and delight them."
Hearst president and chief executive officer Steven R. Swartz added: "Glenda Bailey's Harper's Bazaar has been a powerful voice for fashion innovation around the world. We are so pleased that she will remain with Hearst as she transitions to a role of global fashion thought-leader and brand ambassador."
Bailey told WWD that she "thought about stepping down" two years ago, when the magazine celebrated its 150th birthday, but she "had a couple more things on her to-do list." She also added that she is "hardly the retiring type" and will "continue doing something as long as it gives [her] pleasure."
This news comes about a month after Marie Claire editor-in-chief Anne Fulenwider announced her departure from magazines, and Sally Singer stepped down from her role as creative digital director at Vogue. Bailey was one of the last remaining power fashion magazine editors in her role, along with Anna Wintour, of course, who as far as we can tell, will never, ever leave.