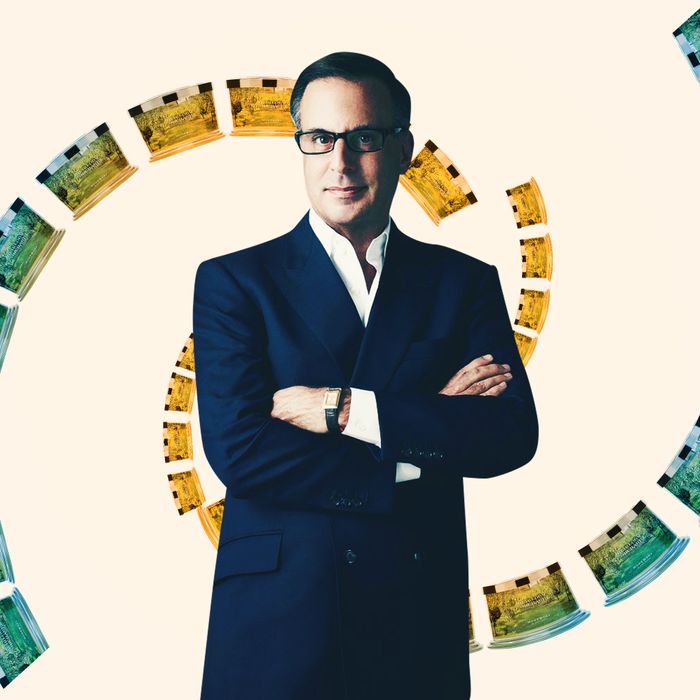 Photo: Courtesy of Harry Slatkin
Scientific studies confirm that of all the senses smell offers the best recall. In Scent Memories, the Cut asks people about the scents they associate with different times in their lives.
Next up is fragrance expert Harry Slatkin, the individual credited with founding the home fragrance category as we know and love it. Slatkin has created home fragrance collections for over 100 brands including Ralph Lauren, Vera Wang, and Christian Dior, candles for individuals including Martha Stewart, Elton John, Oprah Winfrey, Madonna, and Princess Diana, and once oversaw product development for all home fragrance brands under Bath & Body Works. Most recently, he launched Homeworx by Harry Slatkin, his latest line of scented candles. The Cut caught up with Slatkin to talk Paris train smells, special pancakes, and why noses need decaf coffee.
My first scent memory is: My grandmother baking a maple rum strudel. My grandmother was an amazing baker and brought the recipe with her from Austria. When I smell that strudel baking to this day, it just conjures back all those fond memories: The pastry, the apples, having it get all gooey on the stove, putting it together, the butter, and her love. I don't even have to be eating it, if I smell it, my entire childhood comes back. Funnily enough, just this past year I launched a candle called Maple Rum Strudel which sold out.
Happiness smells like: The smell of the garden at our home in Palm Beach. When we were doing the gardens, I wanted something that grows wild; I didn't want manicured, clipped gardens. I wanted more of an English garden, so we planted a lot of orange blossom and white jasmine. When you mix that with the ocean breeze and sea, the smell that washes toward you, it's not like perfume. It's something that gets better throughout the day as it goes in different directions. I go there to escape and for me, that's what happiness is; it's my time. The breeze coming in and out is just enough to remind me this is peace, this is calm, this is tranquility, this is oasis. It makes me stop and enjoy the moment.
Love smells like: My wife. We're pretty inseparable, so she's the last smell of my day when I go to sleep, and the first of the day when I wake up and that's pretty great. Now, she owns Nest fragrances, so she's always got a different scent on, but my wife's own scent mixed with it is unique, and doesn't smell like anybody else. If she's not there, I have trouble going to sleep.
It also smells like my children. Ever since they were born, whenever I kiss them or hug them, I always put my nose in the nape of their neck. I don't think they know. They're going to read this and be like, What are you doing back there? You're not smelling me anymore. But the point is, there's a different smell that you get there; I don't care what perfume or hair tonic is being worn, that nape of that neck has reminded me of my son and my daughter's smell and it's never changed. When I smell that, I can relax. I know they're in my vicinity and not in far off lands, I know that I'm home.
And lastly, my dog. She's been with me for 15 years and to this day her feet smell like popcorn, they always have.
Friendship smells like: My candles when I walk into someone else's house. I'm in the candle business and have been for 27 years. My wife and I are just the home fragrance people. So when I go to someone's home and they're not burning one of my candles, I blow it out. I then follow up the dinner or the cocktails with some of my candles. Now, if I go again and they're not burning my candles, I blow it out and remove it.
Now, my best friend is Tommy Hilfiger, and 13 years ago he bought this brand-new house in Greenwich, Connecticut. There was no furniture in it, so the way they created the ambience was with candlelight in the house — not scented candles, just candlelight. Every room had 300 votives in it. But my daughter had been witnessing me blowing out candles, and she saw they weren't ours. We were out back and noticed the house was getting darker and darker. Why? Because she was in there blowing out all the votive candles [laughs].
Heartbreak or loss smells like: Norrell and Eau Sauvage. I was very close with my mother my whole life and she wore a scent by Norrell, and it's something that permeated in me forever. It's hard to find these days but when I go in an elevator where I smell that, all those wonderful memories come back to me and that loss or heartbreak is no longer heartbreak, it changes into wonderful, happy memories.
The same with my father, who wore Eau Sauvage by Christian Dior. That scent reminds of how up until I was 13, before he passed away, we would spend every Saturday together and we'd go to an old fashioned barber in Montclair, New Jersey, where they'd give you a shave, put a hot Turkish towel on your face, and have an old fashioned manicurist who'd give you a manicure while you're in your seat. Every Saturday he'd go in for a trim, even though he didn't have any hair.
The worst smell is: Cigarette smoke. I was going on a trip from London to Paris on the train a few years ago when smoking was allowed. The woman next to me was smoking like a chimney. Now, I always travel with two things: A big blue scarf that I'm always wrapped in to cover my nose if need be, and my scent that was created for me. I sprayed it on me thinking it would go on me to get rid of her, but I accidentally sprayed it in her eyes and she went wild. The conductor had to get involved and it went on for 30 minutes and she went off on me like a banshee and I went off on her like one; it was not an attractive scene.
Smoking stays on your hair, on your clothes, it just permeates. I just can't do it. Funnily enough, our next door neighbor when I was growing up was Senator Frank Lautenberg who fought to get smoking stopped in the country.
Sunday morning smells like: Banana maple pancakes. Ever since the kids were born and able to eat, my wife has had a thing about making Sunday breakfast and she has made one thing for 17 years: Banana maple pancakes, from scratch. They are amazing and they fill the entire kitchen with scent.
Monday morning smells like: Coffee. Oddly enough I use coffee throughout my day, because the way you clean your sense of smell is through coffee beans, coffee and smelling your clothes. Monday is what I call Smell Day. Every Monday morning, the rack gets picked up and I smell 30 to 40 different scents. Some are brand new, some are development candles, so I have to look at my coffee as my Monday morning rescue.
My home smells like: Now you're walking into troubled waters. It smells like a symphony. I look at fragrance as fragrance notes, meaning that they play out like musical notes because it's never the same. We move fragrances around all the time, and when you walk into my home, there's at least three different scents burning. At least. We have territories in the house, because my wife and I have our own home fragrance brands.
Sometimes we fight for territories, sometimes we move around territories, but it depends on the strength of the character of the individual to know who wins. No room ever smells the same and it changes throughout the day because my home fragrance brand, has top, middle, and bottom notes like personal fragrances. From room to room, the way they combine with everything is very musical.
I smell like: Black fig and absinthe. When I got married, my wife wanted to pick out a scent that would be unique to our marriage so off we went to every department store. One day we're walking through the food store and there's a big barrel of Brut on sale for $1.99 and she said, Let's just try. It basically smells like a a dream of a construction worker. It's manly, it's wonderful, but what sold me was that Brut was worn by Cary Grant. So I wore that for years and then I met a perfumer named Christophe Laudamiel.
We became inseparable friends, and he said, "I know what you're wearing, but can I create something a little more, more how you say, luxury?" So 16 years ago he made me a scent that's black Fig and absinthe. I wear it night and day, and it's my scent so much that if I don't wear it for whatever reason, my daughter says "Dad, I don't smell you." Once I was in Claridge's in London and Linda Wells walked in the lobby and then called up. I said, "Linda, how did you know I was staying here?" and she said "I smell him. He's in the hotel." It's my handshake and it ain't changing. It's called "Harry's Bomb," which created quite the murmur once when I was going to Europe and they opened up my carry-on to inspect it and it earned me a 30-minute detainment.
My wife is launching it at Nest in a year at Sephora. I'm sharing it for the first time because I get asked about it so often … but I think the real reason is more so I don't drive Christophe crazy constantly asking for more bottles of it all the time.
If you buy something through our links, New York may earn an affiliate commission.