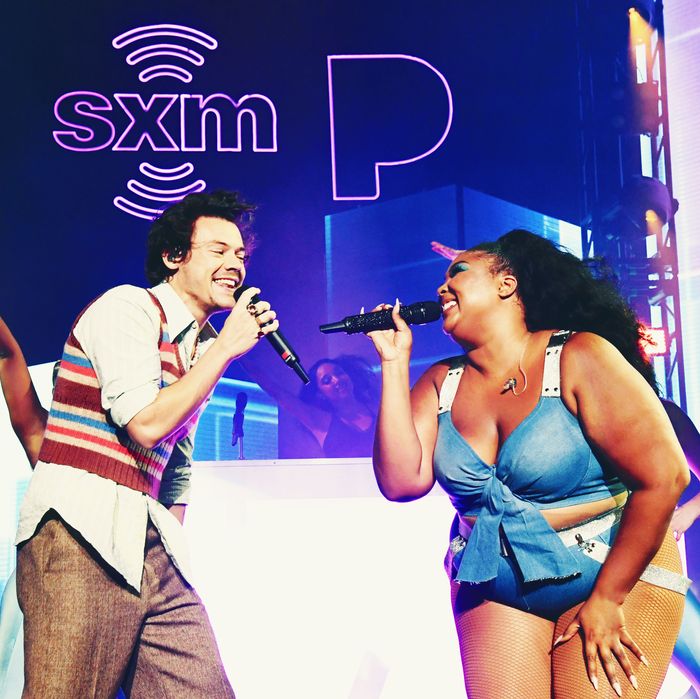 Harry Styles and Lizzo.
Photo: (C)Kevin Mazur/Getty Images for Pandora
My response to most celebrity friendships is, more often than not, apathy. For example, despite my enduring love for beautiful boy Timothée Chalamet, I truly do not care that he's friends with Ansel Elgort, because of course two 20-somethings who went to the same esteemed New York City high school, and who both skyrocketed to fame as actors, like to hang out.
However, there is the rare celebrity friendship I find genuinely delightful, the most recent example being the mutual love blossoming between Harry Styles and Lizzo.
I can't quite ascertain who first took an interest in whom, or when, but I believe it was in mid-December, when Harry performed Lizzo's hit song "Juice" as part of his BBC Radio 1's Live Lounge session. Naturally, because Harry is a bonafide charmer with a massive adoring fan base, everyone lost their shit over it — including Lizzo, who tweeted in response to a video of the performance, "You know what this means right….? 😏😉"
Yesterday, we saw more evidence of this charming friendship: During her concert in Miami, Lizzo shocked the crowd when she brought out Harry to perform "Juice" alongside her. And Harry didn't just sing — he bopped along with the choreographed dance moves, interjected cute lines during the song ("I wanna be way more than friends," he yelled at one point), and even grabbed Lizzo's hand during the final chorus.
Watch any video of Harry and Lizzo's performance last night, and it's impossible to argue that they don't have genuine chemistry; again, please allow me to direct your attention to the platonic hand-holding.
A friendship most pleasing to me!