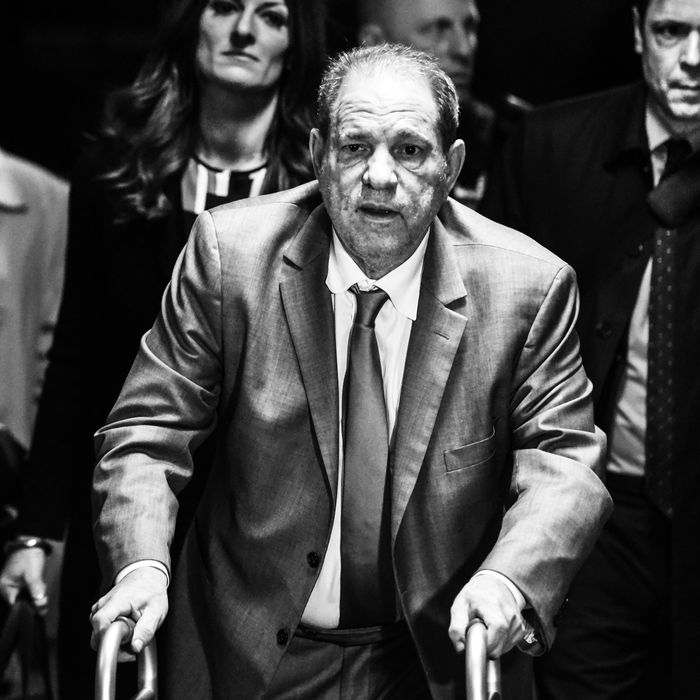 Harvey Weinstein.
Photo: Stephanie Keith/Getty Images
Try to imagine a scenario that would require you to have four cell phones. Kind of difficult, right? Probably because any situation that would demand more than two phones would likely involve some sort of criminal or otherwise condemnable activity. Someone like Paul Manafort — now there's a man who probably had drawers of phones. But most upstanding citizens who don't see a life of crime in their future? Just wouldn't make sense.
Which is why it's not all that surprising that Harvey Weinstein — who is currently standing trial for rape and sexual assault — is a man who carries an obnoxious amount of phones. According to BuzzFeed News, before Judge James Burke even entered the courtroom on the second day of the disgraced mogul's high-profile trial, Weinstein was forced to hand over two cell phones after New York State Supreme Court staff spotted him with them in the courtroom, which Burke had explicitly declared a no-phone zone. But Weinstein had backup. When Burke walked into the room, he saw Weinstein furiously texting on an additional cell phone, and soon discovered that Weinstein had yet another on his person.
Understandably, the judge was vexed. "Mr. Weinstein, I strongly urge you to exercise your right to remain silent at this point," Burke warned him, before asking, "Is this really the way you want to end up in jail for the rest of your life, in violation of a 'do not text in court' rule?" Weinstein's lawyer Arthur Aidala swiftly apologized, but then asked the judge to delay the trial. (The request was denied.) And now, Weinstein's lawyers are trying to argue that Burke should recuse himself because he reprimanded Weinstein, which they say demonstrated bias.
While around 100 women have publicly accused Weinstein of sexual misconduct, in New York City, he has been charged with five counts of rape and sexual assault of two women: former production assistant Mimi Haleyi and an unnamed woman who says Weinstein raped her in a hotel room in 2013. (In Los Angeles, Weinstein is facing rape and sexual-assault charges related to two separate incidents across two days in 2013.)
Anyway, what a start for Weinstein's trial, which is still in the juror selection phase. Also, God, I wonder how many phones he has total.