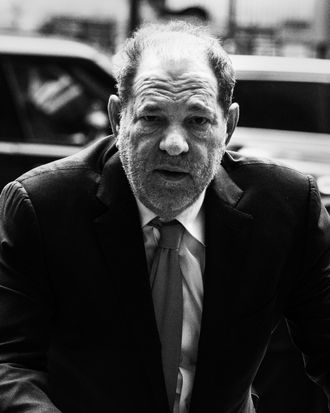 Photo: Scott Heins/Getty Images
The 12-person jury for Harvey Weinstein's rape and sexual-assault trial was finalized today. The gender breakdown is equal, but the panel's main demographic is white men, with the final breakdown being six white men, a black man, a Latina woman, two black women, and two white women.
Jury selection for the trial has been ongoing this week, though it proved to be difficult, with lawyers on both sides heavily scrutinizing potential jurors' ability to be impartial. Earlier this week, the prosecution, led by Joan Illuzzi-Osborn, accused Weinstein's defense of "systematically eliminating white women" from its jury panel.
BuzzFeed noted that several women were dismissed for such reasons as having photos of the women's march on their social media, or for having worked in modeling. One woman who worked in finance was dismissed, with the defense arguing that her industry had exposed her to "locker room talk" and stories about men holding women back in the workplace. The defense also tried to remove a woman who said in her juror questionnaire that she had been sexually and emotionally abused by former boyfriends. That last dismissal wasn't accepted by the judge, who said that this would not affect her ability to be impartial.
BuzzFeed also relayed some of the questions both sides asked during the questioning process, which whittles down the jury pool. It included such queries as, "Does anyone here think that a young actor or actress might have a sexual relationship with an older man for a reason other than love? Whether they find that person attractive or not?" and "Do you agree that someone might have sex with someone that was consensual and then years later say it was not?"
Over 100 women have publicly accused Harvey Weinstein of various forms of sexual misconduct. He is formally charged with two counts of predatory sexual assault, two counts of rape, and one count of criminal sex act stemming. Opening arguments will be made on January 22.