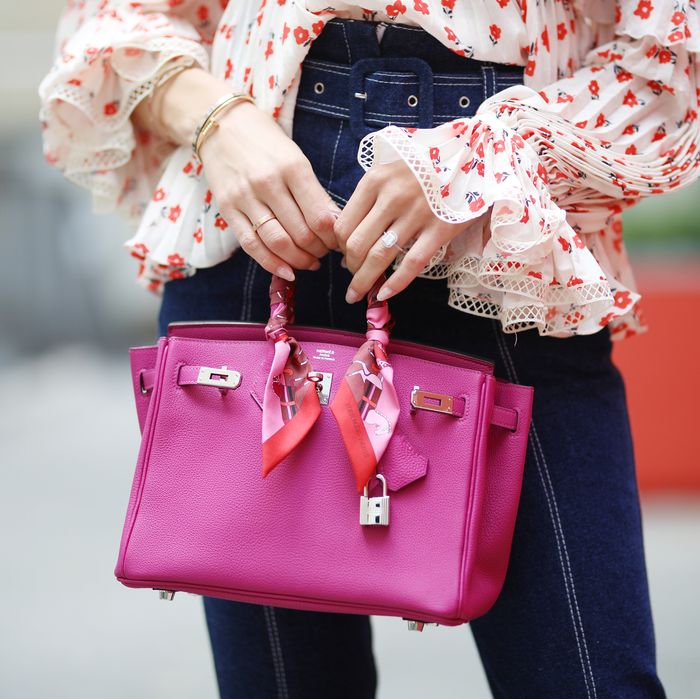 Soon your lips can obtain this bright, leathery sheen.
Photo: Jeremy Moeller/Getty Images
Are you, like North West, tired of lugging your $10,000 Birkin bag around to the opera? Not to worry, the first Hermès makeup product has been revealed and it's a lighter, more budget-friendly accessory to tote around town.
WSJ reports that the French brand will soon be launching Rouge Hermès, a line of 24 lipsticks (not to be confused with the 2000 perfume of the same name) set to hit select retailers in March. The lipsticks are refillable, $67 ($42 for refills), and come in two different textures: a matte that pays homage to Hermès suede, and a satin that pays homage to Hermès calf leather sheen a la the Kelly bag. The bag shoutouts continue with electric lip colors (think purple to orange) pulled from the brand's historic library of 900 leather shades and 75,000 silk swatches, plus the brand's signature "permabrass" handbag hardware on the packaging. Like Gucci's fancy lipsticks, these will also be lightly scented, but with a custom blend created by Hermès's perfumer Christine Nagel.
Agnès de Villers, who runs Hermès's beauty division, told the publication, "Success will mean our clients feel immediately that Rouge Hermès is more than a lipstick, but an Hermès object in itself." These already sound like they fall into Hermès object territory, worthy of dethroning teeny-tiny bags. You can turn your tube into a full-blown accessory by adding a lip brush with a handle, a leather case, or a metal-encased mirror that doubles as a necklace pendant.
And lipstick is just the beginning. According to WSJ, the brand plans to launch a new cosmetics category every six months and hints that "foundations and eye and cheek colors are not far behind, to be followed eventually by skin care." Rearrange your vanity and other objects accordingly.