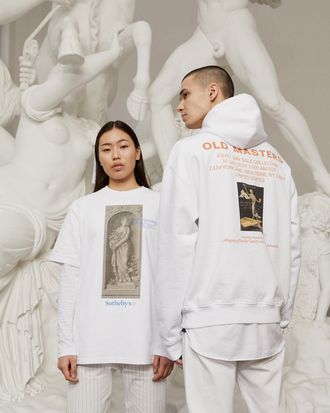 Photo: Highsnobiety / José Cuevas
Today in Fashion Mad Libs: the storied British auction house Sotheby's has just announced a collaboration with the sneaker blog Highsnobiety to release a collection of streetwear inspired by the Old Masters.
The collection includes shirts, sweatshirts, and hoodies featuring prints from various Italian, Dutch, and Flemish works that are set to be auctioned in Sotheby's Old Masters sale later this month. Highlights include paintings by Matthias Withoos and Ginevra Cantofoli, as well as other 17th century-ish masterpieces whose original versions start in the $60,000 range. (The clothes, on the other hand, range from $72 for a shirt to $139 for a hoodie.)
The streetwear site and auction house seem like unlikely partners, but Sotheby's has been making plays to be the "cool global auction house" for some time now. Last year, it linked up with Victoria Beckham for the "The Female Triumphant," a sale that focused on female master works. And last summer, it became host to the most impressive Supreme skateboard deck collection in history.
What's more, fashion has been drawing on the old masters in recent years, largely thanks to Gucci, where creative director Alessandro Michele released an old master-inspired advertising campaign called "Gucci Hallucination" in 2018. At the time, the Met was running its extremely popular Michelangelo show, and Beyoncé and Jay-Z filmed the video for "Apeshit" at the Louvre. The events led Christie's to declare that the Old Masters were "back in fashion," while Vanity Fair claimed that the painters were "having a Renaissance."
Are they, though? Fashion moves quickly and streetwear trends are especially unpredictable, so it's difficult to say if the cool kids will start wearing Gentileschi with their Gucci flip-flops. But if you are lucky enough to know an art history major-turned sneakerhead, a piece of this collection might just be the perfect gift.