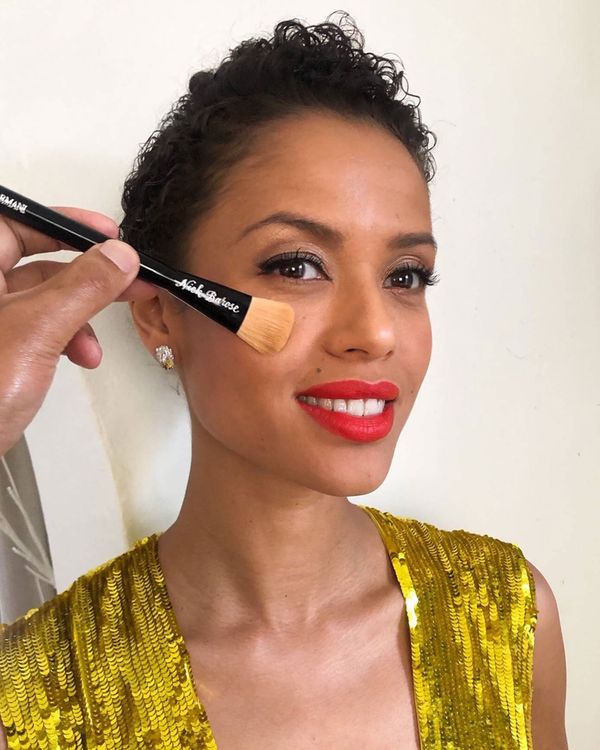 Photo: Courtesy of Nick Barose
It's fun to watch a parade of blunt bobs and perfectly applied lipsticks walk the red carpet while wearing the same sweatsuit you've had on since New Year's Day. But it's even more fun to learn about everything that happened in the hours before, when you were still waiting for the red carpet to begin.
That's the exact kind of intel we got from makeup artist Nick Barose, who helped actress Gugu Mbatha-Raw get ready for tonight's Golden Globe Awards. Below, in his own words, Barose walks us through how he dreamt up and executed the look, which paired perfectly with Mbatha-Raw's curly updo and gold Gucci dress.
The Mood Board
"Our inspiration was a little bit Dorothy Dandridge, a little bit Diana Ross. Armani Beauty Rouge D'Armani Matte Lipstick in 401 was the perfect orange lipstick to play off the yellow Gucci dress and Gugu's golden complexion. Orange is more quirky than a classic red and pairs well with golden, bronzy tones on the eyes."
The Lips
"I always wanted to use this gorgeous shade on her! I picked out this beautiful lipstick and had her name engraved. It works perfectly with the dress!"
The Eyes
"For the eyes, I layered three different shades of Armani Beauty Liquid Eye Tints in 6, 41, and 27 to give it a metallic, disco shine complimenting her sequin dress, and added flirty Gossamer lashes from Lashify."
The Carry-On
"For touch-ups, I made sure she packed her clutch with some blotting papers (from Tatcha), a few cotton swabs for emergencies, Armani Beauty Luminous Silk Compact in 5, Rouge D'Armani Matte in 401, and Armani Beauty Ecstasy Lip Balm for a little boost of hydration."
The Final Look
"It was a perfect day — L.A. weather was in our favor. I always prefer using daylight when getting my clients ready, so today was a treat! Here we are right before Gugu jumped in the car!"
If you buy something through our links, New York may earn an affiliate commission.