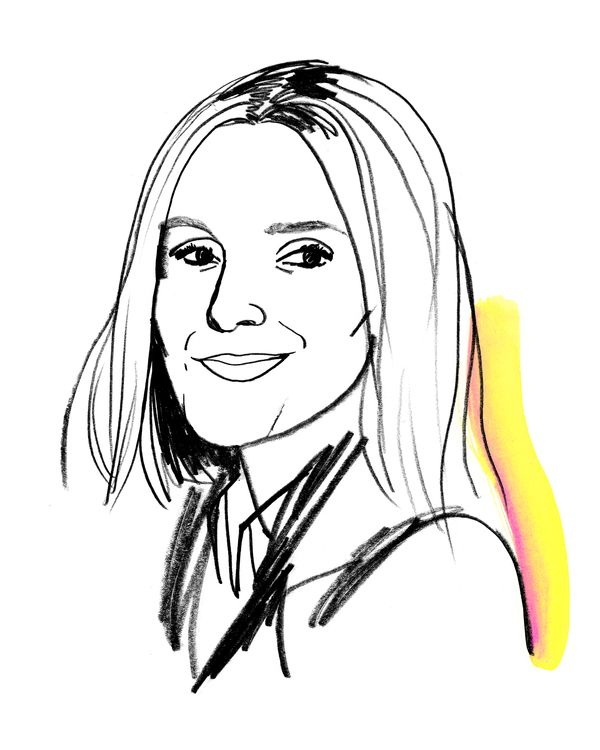 Laura Brown.
Illustration: Lauren Tamaki
Laura Brown is the editor-in-chief of InStyle. Brown, who is from Australia, was previously the executive director of Harper's Bazaar, where she worked for 11 years before taking the reins at InStyle in 2016. She's well known beyond the fashion world for her warm sense of humor and ease on social media — where she often posts playful behind-the-scenes footage of celebs along with the occasional selfie. She lives in New York with her fiancé, Brandon Borror-Chappell, a comedian and freelance writer. Here's how she gets it done. 
On a typical morning: 
I try to wake up at 7 a.m, but there are two modes of me. I'm a Gemini. There's the mode where I'll get up and get on the Peloton bike. It's literally in the next room from me, so it's sad how infrequently I get on it. The bad me gets up at 7:30 and then just gets on the internet. I swipe through a bunch of emails and I'll get stuck there, especially if we're breaking a cover, or a story, because our break times are at like 8 a.m. normally. So sometimes I'll be in the bathroom, you know, having a shower, but also launching a cover.
I'm suspicious of hot coffee. It could be zero degrees outside, and me and my fiancé, Brandon, just do a mug of coffee with ice cubes. At the moment, I haven't been eating breakfast.
On commuting:
I take a car every day. I spend half of my bank account on Uber, I'll tell you that. When I'm going down the West Side Highway, that's kind of as close as I get to meditation. I'll do my email, but I like to have a moment of staring at the water, because the rest of my day is really overstimulating.
On managing her schedule:
I can do some things well, but scheduling is not one of them. If I have to run my own schedule, it's crazy. I'll have booked three people on the same night for dinner next week. I have a very on it assistant. I need to have people say to me, "Are you really gonna do that?" My energy is not infinite. When you're younger, you want to go out and do everything. Now, I can't do all the things, and I don't need to so much anymore.
On travel:
I travel so much. I spend a good amount of my time in the Delta terminal at JFK. Terminal 4, baby. I know the guy that drives a thing around there. But what keeps me sane is sleep. I'm a big sleeper. I need to have eight hours on the docket, or I just can't do it.
On the people who inspire her:
I really get inspired by the people I meet and get to work with, and it's not necessarily famous ladies. A few weeks ago, I was at this lady conference on Necker Island where Diana Nyad, the swimmer, was a speaker. She just swam from fricking Cuba to Florida when she was 64. I was following her around like a puppy, and I didn't even care. It's those kinds of things that inspire me.
I really get a kick out of meddling — but meddling for good. I like introducing people who may not know each other, like a designer and an actor, or a swimmer and a business person. I think it's like only-child syndrome. I'm like, "Friends! Be friends!"
On writing:
I have an approach to writing. I'll just sit at home and and put some sports on or something. Brandon might be watching tennis or whatever. I just put my head down and go. I sit there and work until it's done. And when I file a piece, I like to announce it like I'm a child.
On working lunches:
I don't like going out for lunch. I find it really disrupts my day. I'd rather have a drink after work than dislodge my day and then have to travel and come back. So when I'm here, I'm eating at my desk. People are in and out every second of the day, so there's no meal that does not have an audience. If I'm having chicken, if I have stuff in my teeth, everybody is seeing it.
On managing stress:
I don't find what I do stressful. I've done it for a long time now. I've shot a lot of covers in my life, at Harper's Bazaar and now here. I think if you have confidence in your abilities and what you produce and you're doing the work, it should not be stressful. You also have the gratification of making things. I say this to a lot of young people: Make a thing; don't just get your picture taken and put it on Instagram. It's grounding to have ownership of what you've done.
On social media:
I've always had a decent amount of ease with it. I really love being able to capture little funny moments. I'm not thinking, "Oh, I have to post today," and I'm not agonizing about captioning. I just bloody do it.
On not using email:
The amount of work I do via email is completely declining. It's all text and DM now. I've got hundreds of emails, but that's just crap. It's not like I'm getting emails from my team unless I'm away. They're texting me or on a group thread or we're sending each other Instagrams. I just booked a really wonderful woman for our March issue because I slid into her DMs, like the kids do.
On unwinding:
I enjoy tequila gimlets. I had a long day yesterday. When it was over, I said to Brandon, "I'm sorry, you're going to be the Betty to my Don Draper. Can you please make me a gimlet for when I get home?" I'll put on sweats. It's super sexy. I have this pair of koala slippers that my girlfriends bought me, and I'll watch TV and put my koala feet up on him. It's the greatest. We'll get sushi or something. I could eat dinner at 5:30. I have no problem with it. It's so efficient getting old. I have to have a shower every night. I'm a multi-shower person, big fan. I always have this feeling that nothing is more optimistic than a jar of eye cream. So I'll put that on and go to bed early.